MPs' inquiry into 'marking their own homework'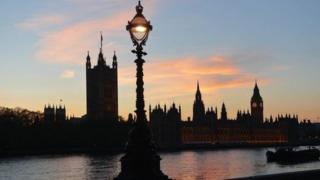 MPs have launched an inquiry into whether they should be stripped of the power to police their own behaviour.
It comes after the Commons standards committee was criticised for reducing the fine levied on Cabinet Minister Maria Miller over her expenses.
The committee is to investigate the best way to regulate MPs - including whether they should still "mark their own homework" when it comes to conduct.
It wants to restore the reputation of MPs after a string of scandals.
Committee member, Conservative MP Geoffrey Cox, said the current regulatory system was too "reactive" - the watchdog only gets involved when someone makes a complaint.
Professional footing
Instead, he argued there should be a permanent body charged with monitoring and updating ethical codes for MPs, and training them in how to behave properly, along the lines of the Office of Congressional Ethics in the US Senate.
He said the "overwhelming majority" of MPs knew the difference between right and wrong, but the rules of the House were not always clear and "what we need to do is put this on a professional and scientific footing".
He called for the committee to transform itself into an "an engine of continuing attention to this issue" or to set up another body that would do the job.
The MPs are keen to see an offence of bringing parliament into disrepute written into the rules - but Mr Cox cautioned against outlawing those with unfashionable or even "shocking" views or lifestyles, as they were still entitled to be MPs.
"We have to be careful about censuring Members of Parliament's private behaviour," he said.
Fellow committee member and Tory MP Robert Buckland said MPs needed "less of a fire service and more of a police service" - and insisted they had to live up to their "honourable members" tag.
Lay members
The inquiry, which is hoping to take evidence from MPs who have been censured by the existing system, among others, is aiming to publish its report by the "turn of the year" so MPs can debate it before the next election.
The standards committee came under scrutiny after it ordered Culture Secretary Maria Miller to repay £5,800 to cover over-claiming of mortgage expenses for her "second" home in Wimbledon, south-west London.
This was a considerable reduction in the £45,000 repayment recommended by Kathryn Hudson, the parliamentary standards watchdog, in her report on the allegations.
Committee chairman, Labour MP Kevin Barron, has backed calls for reform - but the committee opposed giving its "lay members" full voting rights as he and others have urged, arguing that this could undermine the committee's status as a Parliamentary body.
There three lay members are non-politicians, who were drafted on to the committee after the expenses scandal to improve oversight. They have the power to issue opinions but not vote on decisions.
The inquiry will look at whether there needs to be more lay members on the committee and whether the existing penalties for MPs are tough enough among other things.