PM to call 'unprecedented' vote on Juncker EU appointment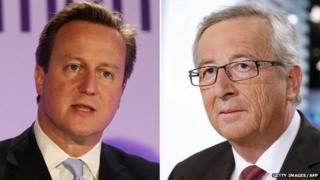 David Cameron will call for a vote from fellow EU leaders on the next European Commission president if there is an attempt to rubber-stamp Jean-Claude Juncker in the role.
Mr Cameron opposes the ex-Luxembourg PM, whom he sees as preventing EU reforms, and a No 10 source says he will seek a vote at a summit next week.
But correspondents say it looks likely Mr Juncker will get the job.
Meanwhile, business leaders have warned about EU measures affecting the City.
The row over Mr Juncker hit the headlines a few weeks ago when Mr Cameron reportedly warned the UK could leave the EU if Mr Juncker became president of the European Commission - the body which drafts EU laws.
Mr Cameron wants a delay in the process in an effort to find a consensus candidate, but if his fellow 27 EU leaders are not even willing to consider alternatives to Mr Juncker, he will call a vote and require them to set out their positions clearly.
"British officials have been clear... that if there was the political will to find consensus then the decision on commission president could and should be delayed," a Downing Street source said.
"But if leaders are not even willing to consider alternative names, despite their widely expressed misgivings, then a vote should take place.
"The prime minister believes it is important that each leader sets out their position clearly when such an important principle is at stake - handing power to the parliament through a back-room deal."
'Alternative names'
Mr Cameron, who wants to renegotiate the terms of the UK's membership of the EU, wants a reformer to take charge, whereas Mr Juncker is seen by some as a politician with an instinct for ever-closer European integration.
The responsibility for proposing a new president lies with Mr Cameron's 27 fellow heads of government, in a grouping called the European Council.
Jean-Claude Juncker: The numbers game
EU leaders split over whether Jean-Claude Juncker can drive the changes many want in the EU
Mr Juncker seen as traditional Brussels "insider" by UK - some other EU leaders also against him
Germany's Chancellor Merkel backs Mr Juncker - but stresses that leaders must agree on EU priorities first
In anti-Juncker camp, UK PM David Cameron appears to have Netherlands, Sweden and Hungary as allies
UK hopes of support from Italy - which has sizeable voting weight - have been dashed
Juncker also needs European Parliament approval
Parliament says Mr Juncker is first choice as his centre-right European People's Party (EPP) bloc won election and leaders must take account of result
But Mr Juncker would need 376 votes in 751-seat parliament - not clear he could get that
Mr Juncker would get support of EPP and Liberals, but big Socialist bloc looks split and many other MEPs would oppose him
But under new rules, they must now take into account the results of the recent European Parliament elections. Mr Juncker is the chosen candidate of the centre-right European People's Party, the largest bloc in the European Parliament.
Downing Street believes that the European Parliament now has too much say.
Mr Cameron will meet the President of the European Council, Herman Van Rompuy, on Monday in Downing Street to discuss the issue, ahead of a European summit in Brussels on Friday.
Both the Labour leader Ed Miliband and Nick Clegg, the Liberal Democrat leader, have also said they do not want Mr Juncker to be the next leader of the commission.
But on Saturday, Mr Juncker received the backing of nine left-wing heads of government.
Speaking on their behalf, the President of France, Francois Hollande, said it was important to respect the spirit of the European parliament elections.
Germany's Chancellor Angela Merkel has also backed Mr Juncker's bid - after some hesitation - and he also has support from other conservative leaders.
'Bloody nose'
Mr Juncker was prime minister of Luxembourg from 1995 to 2013 and one of the architects of the euro.
He is a strong advocate of a European "solidarity" union - an EU that strives to raise living standards in its poorest regions and sectors.
Poland's foreign minister, Radek Sikorski, criticised Mr Cameron's opposition to Mr Juncker on the BBC's Andrew Marr show.
He said the European Parliament's main parties had announced their candidates in advance.
Had the Conservatives been part of the European People's Party (EPP), Mr Sikorski said, Mr Cameron could have made his anti-Juncker argument "when EPP chose its candidate and he may well have prevailed".
Former defence secretary Liam Fox told the same programme that "it's been a real pleasure watching a British prime minister do what he thinks is right in Europe".
"Now he may not win the battle, but it is so much better to see a prime minister willing to fight a battle and take a bloody nose than not fight at all."
Shadow foreign secretary Douglas Alexander said getting the right candidate for the head of the European Commission "is ultimately a test of David Cameron's influence with our allies to secure the best deal for Britain in Europe".
"Even his strongest supporters recognise that so far the prime minister has badly misjudged these vital negotiations, and his public anger appears a very poor substitute for private influence."
City concern
Meanwhile, writing in the Sunday Times, 54 people - including Conservative donors and two former ministers Lord Lamont and Lord Flight - said they were "extremely concerned" about Britain's "difficulties" in preventing the introduction of new EU financial measures.
"As we enter a period of EU reform and renegotiation, we urge political leaders to remember the significant contribution that our industry plays in Britain's economic success," they said.
BBC political correspondent Chris Mason says the letter highlights the challenge Mr Cameron faces - "convincing people he can reform the UK's relationship with Brussels sufficiently to be able to argue Britain should remain within the EU, in a referendum he'd like to hold in 2017".