Liberal Democrats: Vince Cable declares Oakeshott poll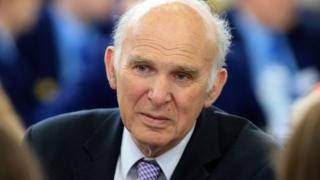 Business Secretary Vince Cable has declared a controversial opinion poll, which was viewed as a bid to undermine Nick Clegg's leadership of the Liberal Democrats, as a £6,000 donation.
He updated the register of MPs' interests with details of the survey, funded by Lord Oakeshott, on 5 June.
MPs must declare to Parliament any private gifts worth more than £1,500.
Parliament's standards watchdog is looking into the poll, which led to the peer quitting the party.
He commissioned research into the Lib Dems' prospects in a series of key constituencies, include Mr Cable's.
The findings suggested seats could be lost unless there was a change of leader.
Details were leaked after the party's disastrous showing in last month's European elections, forcing the MP to deny he was part of a plot to oust Mr Clegg.
Mr Cable said he knew polling was being carried out in his Twickenham constituency.
But he denied any involvement in other surveys, including one about Mr Clegg's Sheffield Hallam constituency, and said he had specifically asked for questions about alternative leaders to be omitted.
'Heading for disaster'
After being revealed as the source of the polls, Lord Oakeshott resigned and suggested the Lib Dems were "heading for disaster" under Mr Clegg.
He also insisted Mr Cable knew about the polls weeks before the European election results.
The Twickenham survey is included in Mr Cable's latest entry in the MPs' register.
It is listed among a series of donations "to my constituency party or association, which have been or will be reported by the party to the Electoral Commission".
The entry says the poll was declared on 5 June - a week after Lord Oakeshott quit.
On Monday the parliamentary standards commissioner Kathryn Hudson said she had launched an investigation into whether Mr Cable and Wells MP Tessa Munt, for whom a poll was also conducted, should have declared the research.
The matter was brought to the attention of the watchdog by Laurence Duman, editor of the website Political Scrapbook, who suggested each poll would have cost a minimum of £4,000.
Ms Munt said she welcomed the inquiry and would fully co-operate.