Passport delays: Tourism minister promotes 'staycations'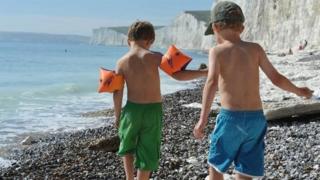 Tourism minister Helen Grant has come under fire after appearing to suggest people whose passports have been delayed could opt to holiday in the UK.
She told the House magazine she was "very confident" people would get their passports in time to travel abroad.
But she said the UK was a "wonderful place" to take a break and there was "a lot to be said for a staycation".
Labour accused Ms Grant of telling people they "wouldn't be going abroad any time soon".
But Prime Minister David Cameron said the minister had been making a valid point about the good holidays on offer in the UK.
Home Secretary Theresa May has apologised for the problems at the Passport Office, which has been overwhelmed by a surge in applications this year.
Sports holidays
Demand for new and updated passports is at a 12-year high, with 346,000 more applications being dealt with than at this time last year.
Emergency procedures have been put in place to try and clear the backlog of passports due for renewal which have taken longer than the standard three week processing time.
People with "urgent" travel plans - who are due to travel within seven days - can get their renewals fast-tracked for free to ensure they get away on time.
Ms Grant, who is currently in Brazil for the World Cup in her capacity as sports minister, told the parliamentary magazine that people should "do what they like" when it came to planning their holidays.
"I am in no doubt, I am very confident that people will get their passports," she said.
"But if they don't want to go away, we have some fantastic places to visit and holiday not that far from here. I think there's a lot to be said for the 'staycation'.
Ms Grant suggested people could build their holidays around sporting events to be held in the UK this summer, including the Commonwealth Games in Glasgow, the the Tour de France Grand Depart in Yorkshire and the Open Golf on the Wirral peninsula.
The UK, she added, was "a wonderful place to have your holiday".
'Domestic champion'
Labour said Ms Grant should focus on sorting out the problems rather than "telling people what to do".
"Holidays in Britain are fantastic but ministers should not be trying to divert attention from the chaos they created," shadow home office minister David Hanson said.
"People need their passports for business, family funeral visits, residency permits and other personal reasons as well as holidays. Helen Grant should be on to the Home Office to get this sorted out rather than telling families they won't be going abroad any time soon."
But Mr Cameron said Ms Grant's remarks had been misconstrued.
"She was making the point, look, if people want to have a holiday in the UK there are lots of good holidays to have," he said.
"We should judge people on what they actually say rather than interpretations of what they said. But be in no doubt this government is working flat out to fix the passport problem."
Labour has suggested some people have been forced to cancel their holiday bookings because they have not got their passports in time although travel agents have said there is little evidence of this happening.