Universal Credit policy to expand to 90 jobcentres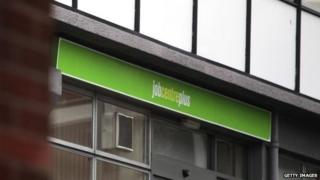 The government's flagship welfare policy, Universal Credit, is to be introduced in 90 jobcentres in north-west England, Iain Duncan Smith says.
The work and pensions secretary told the BBC the change would apply only to single claimants, with couples and families joining at a later stage.
But ministers have not set a target date for that to happen.
The benefit is currently distributed at just 10 jobcentres, having been delayed a number of times since its creation.
Ministers say the changes will get under way next week.
The Universal Credit system merges six working-age benefits - income-based jobseeker's allowance, income-related employment and support allowance, income support, child tax credit, working tax credit and housing benefit - into a single payment in a far-reaching change designed to encourage work and reduce fraud.
'Improve' chances
Mr Duncan Smith said: "What we're planning to do is start rolling out Universal Credit [for] singles, which is the bit that we've been testing, to the whole of the North West.
"That means basically that the North West will, across the board, be engaged with Universal Credit.
"And then coming down the track will be further embellishments, such as couples and families."
He added: "That will improve the quality of service for people, improve their chances of getting back to work."
Asked whether there was the "tiniest percentage chance of universal credit being scrapped", Mr Duncan Smith said simply: "No."
Meanwhile, a committee of MPs has described changes to disability benefits as "nothing short of a fiasco".
The Public Accounts Committee said some of the "most vulnerable in society" have been let down because of delays assessing claimants for the new disability benefit - the Personal Independence Payment.