Dr Sarah Wollaston elected as health committee chairwoman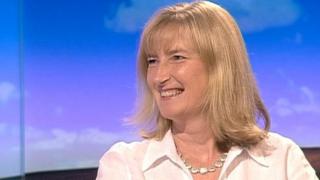 Former GP Dr Sarah Wollaston has been elected as the new chairwoman of the Commons Health Select Committee.
The MP for Totnes said the NHS was the "most extraordinary achievement and the most extraordinary challenge" after the result was announced.
The Conservative takes over from outgoing chairman Stephen Dorrell, also a Conservative, who announced last month he would quit the post.
She beat Tory MP Dr Phillip Lee, also a trained GP, into second place.
There were four rounds of counting in the transferable vote election.
Dr Wollaston thanked her predecessor for "his exemplary leadership of the select committee over four years, which has been widely respected".
She said: "I would like to thank him for everything he has done on behalf of patients, acting as their voice in that role.
"The NHS touches people's lives a million times every 36 hours. It is the most extraordinary achievement and also the most extraordinary challenge.
"The new chief executive of NHS England has called on everyone within the NHS to think like a patient and act like a taxpayer.
"I think the role of the select committee is to ask those challenging questions on behalf of patients and taxpayers so this most cherished of our institutions in this country can continue to be there for all of our constituents when they need it the most."