Liberal Democrats discuss shift in EU referendum policy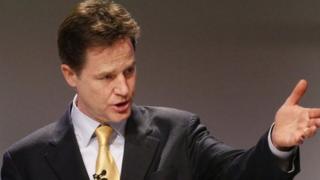 A Lib Dem minister has confirmed that senior party figures are discussing whether they should back an early referendum on Britain's EU membership.
Nick Clegg is being urged to abandon his opposition to a referendum in the next Parliament, the source said.
Current party policy is to back a vote only if more powers are transferred from Westminster to Brussels.
But the minister said the Lib Dems were "on the wrong side of the argument" and sounded "disingenuous".
The Lib Dems performed disastrously in last month's European elections, losing all but one of their seats in the European Parliament.
The deputy prime minister made his party's support for the EU a central plank of his campaign, asserting his opposition to the Tories' plan for an in-out referendum in 2017.
Following the election setbacks, Mr Clegg has come under pressure from MPs and activists for a change in direction on certain policies.
Reports in the Times and Daily Mail suggested the party was due to discuss their stance on an referendum at a meeting on Tuesday although the BBC understands there was only a "preliminary" mention of the issue.
The BBC's political correspondent Vicky Young said she had been told by a Lib Dem minister that he, and at least one other minister close to Nick Clegg, had been urging their party leader to abandon his opposition to a referendum in the next Parliament.
The minister, she said, believed that the recent European election campaign had made the party sound like it was defending the status quo in Brussels when it should be the main voice calling for reform.
The party couldn't continue to block a referendum just because it was worried about the result, he added.