Cameron hails China links at talks with Li Keqiang
David Cameron has said the UK's relationship with China is "gaining in strength, depth and understanding" after talks with Premier Li Keqiang.
The two discussed bilateral economic links and international issues on the second day of Mr Li's trip to the UK.
Asked about its human rights record, Mr Li said China was "choosing its own path" but could learn from the UK and other countries.
Earlier on Tuesday, the Chinese leader met The Queen at Windsor Castle.
It is the first UK visit by a Chinese premier since a row in 2012 over Mr Cameron's meeting with exiled Tibetan spiritual leader, the Dalai Lama.
High-level relations between the UK and China were frozen for a time after this but, after a change of leadership at the top of the Chinese Communist Party in March 2013, Mr Cameron visited China in December.
'Co-operation'
Speaking after a Sino-British ministerial summit in No 10, Mr Cameron said the partnership between the two countries was one of "growth, reform and innovation".
He said the two men had discussed growing economic and cultural ties and international issues, including the global threat from terrorism and the crises in Iraq and Ukraine.
Mr Li said the relationship between the two countries was maturing and welcomed the UK's plans to relax the visa rules for Chinese visitors.
The Chinese premier has said he hopes the trip will help to "change misperceptions and misgivings" about his country but the UK has said it remains "deeply concerned" about China's human rights record.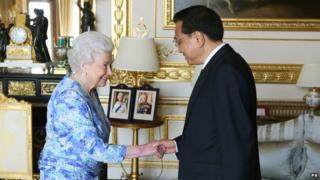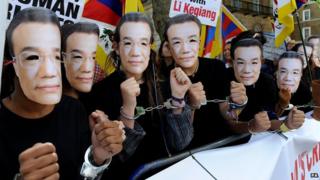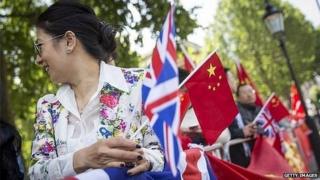 During their press conference, Mr Li was asked about comments by Nick Clegg, Mr Cameron's deputy, that China was responsible for "large scale and systematic" human rights abuses.
The Chinese premier said his country was protecting and advancing human rights in line with its constitutional obligations while "choosing our own path in accordance with our own national conditions".
"Over the last 30 years, China has lifted 600 million people out of poverty," he said.
---
The menu and gifts: What the two leaders ate
The menu, cooked by Manchester food company Sweet Mandarin, consisted of: Clay pot chicken, shiitake mushrooms, egg fried rice and sweet mandarin and mango desert.
Among the gifts given to Premier Li were a coin in honour of the Chinese zodiac designed by British Chinese artist Wuon-Gean ho. Also - a signed copy of a script for Downtown Abbey and Charles Dickens DVD box sets.
---
"I believe there are diverse dimensions to the issue of human rights and countries at different stages of development, with different historical and cultural background, may see this issue of human rights from different perspectives."
Activists campaigning for a variety of causes, including Tibetan independence, staged a colourful and noisy protest opposite the gates of Downing Street before Mr Li's arrival.
The summit in No 10 was also attended by Foreign Secretary William Hague, Chancellor George Osborne and Energy Secretary Ed Davey.
Earlier Mr Li was received by the Queen and the Duke of York, a former UK trade envoy, in the White Drawing Room at Windsor Castle. The Chinese premier was accompanied by his wife, Cheng Hong.
---
Analysis: Carrie Gracie, BBC China editor
Today is a mix of pomp, politics and money.
Act One is at Windsor Castle for an audience with the Queen - for Mr Li, a priceless photo opportunity to impress the public back home.
Act Two is at Downing Street - a prime ministerial summit to underline the message that business is now at the heart of the UK-China relationship, with the prickly topic of human rights discussed behind closed doors.
But there will be two episodes with less predictable choreography - a Tibetan demonstration against the Chinese premier in Whitehall and a brief news conference with the British media. The Chinese will expect both to be carefully controlled.
For Act Three of his day Mr Li will be safely back in his comfort zone - addressing a business audience over dinner at the Natural History Museum.
---
At the start of Mr Li's three-day visit, the Home Office announced a new visa service, to be offered to all Chinese visitors to the UK following a pilot programme for tour operators last year.
Mr Cameron said the two leaders had also agreed £14bn worth of commercial deals and investments, pointing out that the UK was the largest recipient of Chinese foreign investment in Europe.
Agreements included a joint statement on nuclear cooperation, natural gas contracts with BP and Shell, supply chain collaboration on energy, and business cooperation in the rail sector.
The BBC's Business Editor Kamal Ahmed said the Chinese government was interested in investing in new nuclear plants and the second phase of the High-Speed 2 rail link.
Negotiations to end a Chinese ban on imports of British beef and lamb have also been announced.
Restrictions were imposed by China in response to the BSE outbreak in the 1980s and 1990s but official-level talks are to begin on opening up a market that could be worth up to £120m to the British economy.
The Chinese premier is visiting the UK as part of a tour of European countries.