Knife crime: MPs back mandatory jail term for second offence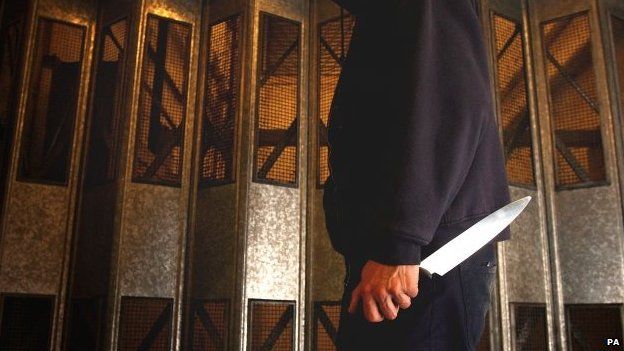 The House of Commons has backed a move to impose mandatory jail terms on any adult convicted in England or Wales of a second offence involving a knife.
Conservative MP Nick de Bois championed the policy, which won wide support among Conservative and Labour MPs - but was opposed by Liberal Democrats.
Mr de Bois, the MP for Enfield North, told MPs that current penalties did nothing to prevent knife crime.
His proposals were agreed by 404 votes to 53, a majority of 351.
The measures aim to ensure that adults receive a minimum six-month jail term on their second conviction for carrying a knife, while 16-year-olds would be given at least a four-month detaining and training order.
Lib Dem Chief Secretary to the Treasury Danny Alexander has previously said the policy "would impose a substantial new pressure on the prison population" and "would certainly not be affordable before 2016-17".
Conservative ministers are thought to have abstained from the vote as a result of the coalition split.
Prisons minister Jeremy Wright told MPs: "Although both coalition parties are fully committed to protecting the public, with regard to these particular new clauses, policy agreement has not been reached so it will be for the whole House to decide upon them."
Mr de Bois sought to galvanise backbench support behind his amendments to the Criminal Courts and Justice Bill.
"Let's face it, to kill someone with a knife you first have to carry a knife, and I believe our courts are dispensing sentences for possession of a knife in thousands of cases that are quite simply treated by offenders as little more than an occupational hazard," he said.
"With nearly 8,000 last year being fines and cautions, I would suggest that in some cases that fuels knife crime and does nothing to halt knife crime."
Knife possession was "just not being treated with the gravity that is required to ensure public safety and justice for victims", he concluded.
Labour's shadow justice minister Andy Slaughter spoke in favour of the amendments, describing knife crime as one of the "most serious and intractable criminal justice issues, one that leaves irrevocable damage in its wake".
"Prevention is better than cure," he added, "but it is important the message goes out from this House that carrying a knife without good reason is unacceptable."
He also accused Deputy Prime Minister Nick Clegg of trying to "buff his tarnished Liberal credentials" with a "cheap political stunt to throw a bone to his increasingly malnourished base".
But Lib Dem MP for Cambridge Julian Huppert said: "The question I think this House has to look at is whether we should be trying to take the thing that sounds the toughest or whether we should try to do the things that actually work."
Existing penalties had spurred a substantial decline in knife possession offences over the last three years, he argued.
The changes could also prove counter-productive by encouraging hardened gang members to force "more junior, more vulnerable gang members [to] carry a knife for them", he warned.
Labour MP Jeremy Corbyn predicted that the proposals could result in a disproportionate number of black people being sent to jail.
"Don't misunderstand me on this: I absolutely do not approve of anyone carrying a knife," he said.
"But you then look at who is stopped and searched and you will rapidly find a wholly disproportionate picture of modern Britain and modern youth.
"You'll find a disproportionate number of black youngsters who have been stopped and searched.
"Therefore you will find a disproportionate number that will be in possession of knives, you will then find a disproportionate number in the prison system, you will then find a disproportionate number of reoffending.
"Surely we should give the courts the discretion on what they do on this matter?" he said.
But David Burrowes, the Conservative MP for Enfield Southgate and co-author of the amendments, said: "This is making a clear, clear point that the expectation is for the victims, the public and for the offenders that they will go to prison if they carry a knife."