Baroness Trumpington profile: From Lloyd George to the Lords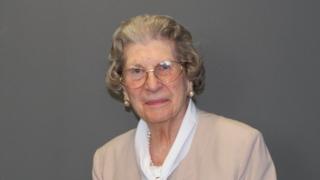 She has worked at Bletchley Park, served as a headmaster's wife, mayor of Cambridge, a government whip and as a health minister. Besides this, she famously flicked a V-sign to her colleague Tom King during a Lords debate.
More recently Jean Barker, better known as Baroness Trumpington, has found fame and acclaim as a witty and no-nonsense face on TV programmes including Have I Got News For You, the BBC Three chat show Backchat with Jack and Michael Whitehall and Great British Menu.
She was born Jean Alys Campbell-Harris in October 1922. Her father, Arthur, was a major in a regiment attached to the Bengal Lancers who had served as an aide-de-camp to the viceroy of India. Her mother, also called Jean, was an heiress of American origins.
Brought up in London in considerable privilege, her parents moved in a fashionable set which included the then Prince of Wales, later the Duke of Windsor, and his paramour Wallis Simpson.
But her parents lost everything when her mother's fortune was wiped out in the 1929 Wall Street Crash. They "downsized" in modern parlance, and moved to Kent. Her mother became a successful interior designer, working with society friends.
On leaving the army her father had earlier joined his father-in-law's firm, the Indestructible Paint Co., and worked his way from office boy to director.
Bletchley service
Even so, as she says in her newly-published memoirs, Coming Up Trumps, it was not a life of penury: "We used to say my mother's idea of being poor was going to the Ritz on the bus."
Her parents, though, were distant, and the young Jean soon developed the strong independent streak which has characterised her life.
Though she hated her boarding school, the young Jean was good at French, and this was boosted when she was sent to a French finishing school aged 15.
As a land girl during World War II, she worked on the farm of the former prime minister David Lloyd George in Surrey. The famously priapic politician - she calls him a "old goat" - once stood her up against a wall and tried to take all her measurements, but got no further.
And her facility with languages- she was also fluent in German - took the 18-year-old Jean Campbell-Harris to the heart of the secret war, working as a cypher clerk at Bletchley Park, transcribing messages from German submarines for the codebreakers, who were stationed in another part of the park and with whom they never mixed.
Though she recalls the work as "deeply tedious" and tiring, there were compensations. She stayed rent-free in a billet and had a best friend of the same dress size, thus doubling her wardrobe. She spent weekends with her friend, the newspaper proprietor and government minister Lord Beaverbrook and partied at legendary West End watering-holes like the 400, the Embassy and the Bagatelle.
But there were dangers. After the Queen Charlotte Ball in March 1941, she and a friend travelled to the famous Cafe de Paris nightclub in London's West End, arriving just 30 minutes after it was hit by two Luftwaffe bombs which killed 34 people and injured around 80.
After the war she spent time in France. But America, her mother's homeland, beckoned.
"I had an absolute longing to go there," she explains. "In the end I went with four pounds in my pocket. I had a job but I didn't realise it would take two weeks before I was paid. So I was very much thinner by the time the two weeks were ended and full of potato crisps.
"If I hadn't got married I think I'd have stayed there. I love the life. There was always something new to see and experience. Wonderful. And you were taken at your face value."
She found work as secretary to the chief executive of a Manhattan advertising firm. The pay was poor and the job boring but, thanks to well-heeled friends, she partied at the Stork Club, knew Walter Annenberg, later to become US ambassador to Britain, and tap-danced on a table at a shindig in Philadelphia.
While in America she met and fell in love with a fellow Briton, the historian and schoolmaster Alan Barker. They returned to Britain and married in 1954, prior to him becoming headmaster of The Leys School in Cambridge. Their son Adam was born the following year.
After being elected as a Cambridge councillor in the early 1960s, she served as the city's mayor in 1971-72.
Lady Trumpington's affection for the House of Lords, which she joined after being ennobled in 1980 in Margaret Thatcher's first honours list, runs deep.
"It means a huge amount to me. It's really given me a reason for living. To suddenly find yourself in such an enormous arena is wonderful."
And she dismisses as "absolute rubbish" the argument to get rid of the upper house.
'Class has gone out of fashion'
"Of the whole, if you look across the benches, people have justified themselves being in the Lords. They've done something."
"In a way, I was lucky, because I was mayor of Cambridge before I went to the Lords. When I first got there I thought 'my goodness, it's just like being in the town hall in Cambridge but much bigger and much grander.'"
Her relations with Mrs Thatcher were warm but she says that she got on with the prime minister because she wasn't afraid to stand up to her.
"We got on terribly well. She was very good to me. I owe her everything. I went on the basis that I would be true to myself, say exactly what I felt, and if I got the sack, so what? But the point was to remain absolutely honest.
"And I think, in a funny way, she used me because I was never going to agree with her if I didn't agree with her and so arguing gave her somebody else's point of view. But she had to deal with arguments, and so my arguing with her helped her."
"Class has gone out of fashion. It doesn't exist," she says when asked about the major changes she has witnessed in British life.
"I don't think people should be judged on how much money they've got or how many titles they've got. And it boils down to how you get on with people and how people get on with you."
And Lady Trumpington is typically direct when reflecting on her own life.
"I think I've been incredibly lucky in many ways. I had a fantastic time during the war, doing a job that was very worthwhile, having fun when I went out on the town in the little time we off that I we were allowed and living life to the full whenever I got the chance."
"And I still certainly do."
Baroness Trumpington's memoirs, Coming Up Trumps, is published by Macmillan