Prisons not in overcrowding crisis, says justice secretary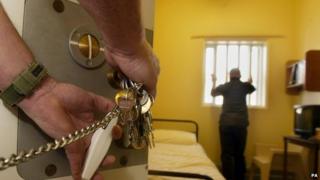 There is no "crisis" of overcrowding in prisons in England and Wales, Justice Secretary Chris Grayling has said.
He was responding to criticism from Labour's Sadiq Khan who claimed jails were becoming "unsafe warehouses" with increasing rates of suicide, self-harm and rioting.
The chief inspector of prisons has also attacked the state of prisons after dozens of full jails were told to take more inmates.
But Mr Grayling played down the fears.
"A few more prisoners are going to have to share a cell for a few weeks," he told MPs, after Commons Speaker John Bercow granted an urgent question on the subject.
'Breath-taking'
"We do not have a prison overcrowding crisis. Today's prison population is 85,359. This is against total usable operational capacity of 86,421, which means we have more than 1,000 spare places across the prison estate," he said.
"We will also by next April have opened an additional 2,000 places. This includes four new house blocks, which will start to open from this autumn."
Mr Grayling also hailed the introduction of a new scheme to enable prisons to take on temporary staff to deal with temporary population pressures.
There was "anything but a crisis", he concluded.
But Mr Khan accused the "out-of-touch" minister of "breath-taking" complacency.
"He appears to think there are no problems and that MPs can be kept in the dark," he said, while "already overcrowded" prisons were being told to "squeeze in hundreds more inmates".
The government had paid private firms including G4S and Serco to provide emergency prison places - but he said the Commons was not being told how much this would cost.
"Prison staff that were made redundant are now being hired back - at what cost? We don't know," he added.
In May, there were "11 self-inflicted deaths in our prisons," he continued. "Last year, self-harming suicides and assaults on staff in adult male prisons went up."
He sought to link staff cuts and the closure of 18 prisons with the increasing rate of "serious disturbances" among inmates.
But the justice secretary replied: "Prison overcrowding under this government is lower than in the last four years of the last Labour government."
'Very concerned'
The 40 publicly-run jails told to raise their "operational capacity" include: Bedford, Durham, Leeds, Leicester, Lincoln and three prisons in London - Brixton, Pentonville and Wandsworth - according to documents seen by the BBC.
All but six of the 40 are already full or overcrowded.
The jails have been told they need to find accommodation by August for 440 more prisoners, in total.
This figure represents about 0.5% of the prison population of 85,410. On average, the 40 prisons affected will have to find space for an additional 11 inmates each.
Nick Hardwick, the chief inspector of prisons, told BBC Radio 4's Today programme on Saturday: "The situation is extremely serious and I am very concerned".
He said the system was not coping, and warned that because of staff shortages, men were locked up together for 23 hours a day, causing "huge tension".
He said extra resources were needed or the prison population had to be reduced.
"This is a political and policy failure - this is not the fault of staff," Mr Hardwick said.
Most overcrowded prisons in England & Wales, May 2014
Prison name
Uncrowded capacity (CNA*)
Actual population
Population as % of capacity
1
Swansea
242
446
184%
2
Lincoln
403
692
172%
3
Preston
421
718
171%
4
Leicester
214
363
170%
5
Exeter
318
538
169%
6
Wandsworth
943
1597
169%
7
Kennet
175
272
155%
8
Bedford
322
487
151%
9
Cardiff
539
807
150%
10
Doncaster
738
1108
150%
11
Nottingham
723
1086
150%
12
Durham
591
880
149%
13
Thameside
600
892
149%
14
Bristol
407
604
148%
15
Leeds
826
1190
144%
16
Pentonville
915
1313
143%
17
Altcourse
794
1129
142%
18
Brixton
530
748
141%
19
Winchester
499
683
137%
20
Hull
552
748
136%