Ex-Gove aide accused of 'anger' issues after PM attack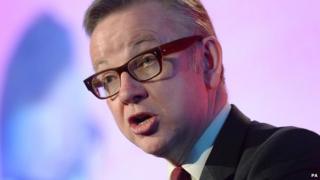 Downing Street has defended David Cameron's advisers after they were criticised by an ally of Education Secretary Michael Gove.
A No 10 spokesman said Mr Cameron had the "highest regard" for his team after Dominic Cummings said they presided over a directionless "shambles".
Deputy PM Nick Clegg suggested Mr Cummings had "delusions of grandeur".
A source close to Mr Gove said he had no prior knowledge of his former aide's Times article and disagreed with it.
Mr Cummings, Mr Gove's former special adviser, left the Department for Education in January having been a driving force behind the government's free schools policy.
In an interview with the paper, he expressed frustration at the pace of reform, claiming the prime minister "bumbles... without the slightest sense of purpose".
"We could have gone faster, further, better," he said.
The outspoken former aide laid the blame for blocking more radical ideas at the door of Mr Cameron's chief of staff Ed Llewellyn.
"He wants to close things down," Mr Cummings said, accusing the senior adviser of being a "sycophant presiding over a shambolic court".
He went on to criticise the prime minister's director of communications Craig Oliver, telling the newspaper: "He's just clueless."
Neither Downing Street nor the Department for Education commented to the BBC about the remarks.
But when asked about Mr Cummings' description of Mr Cameron's most senior staff, his official spokesman said: "The prime minister has the highest regard for the work that the team around him does."
'Totally irrelevant'
Mr Clegg, who was described by Mr Cummings as "a goner", told reporters at his monthly press conference that the former aide has "obviously got a fair amount of bile with him and he's obviously got some serious anger management issues".
"I suppose the only good think you can say about him is he spreads his bile around evenly across both sides of the coalition.
"You get this in politics from time to time - you get people who are not elected to any office, who are sort of backroom people who start developing slight delusions of grandeur about their own role in things."
Mr Clegg added: "I just find his views ... totally irrelevant. They have no bearing at all on what government does. I don't think they deserve the attention they get."
In The Times article, Mr Cummings described Mr Cameron as "a sphinx without a riddle", adding that the "public perception" of the prime minister was that "he does not understand the concerns of ordinary people".
"That's because they (Number 10) are very out of touch," he added.
---
Analysis
By Sean Coughlan, education correspondent
This could have been a story from The Thick of It, but from a perspective where it looks more like a manual on modern government than a satirical caricature. In this ex-adviser's irascible view, MPs are attention-seeking frauds, unable to move beyond gimmicks. And the PM is a blimp floating purposelessly above Westminster. Dominic Cummings is providing his own parallel narrative on what it means to be "governed by clowns". His Twitter account is filled with the smell of burning bridges. He warns of plans for a "trite history speech" on values from the prime minister this week. And he says Downing Street had to be dissuaded from a "crazy" plan to send all schools a copy of Magna Carta. Schools minister David Laws wasn't even told about his party leader's curriculum announcement, he says. And Number 10's plans for "getting on the front foot on British values" will "make you think you're on Brass Eye". Even when some people are or have been insiders, they still think like outsiders.
---
Tearing into Mr Clegg, Mr Cummings said: "He's a goner. People look at him and just have contempt for him - he's the author of his own misfortune."
Mr Cummings' comments come after Mr Gove had to apologise earlier this month for his part in a war of words with the home secretary over tackling religious extremism in schools.
BBC Radio 4's chief political correspondent Gary O'Donoghue said the remarks had brought "more unwelcome attention" on Mr Gove.
Before joining the DfE, Mr Cummings worked as Michael Gove's chief of staff and before that as Conservative director of strategy under then leader Iain Duncan Smith.
Mr Gove, a close friend of David Cameron, has previously said the number of Old Etonians in the prime minister's inner circle - one of whom is Mr Llewellyn - was "ridiculous".