Political campaigning, without politicians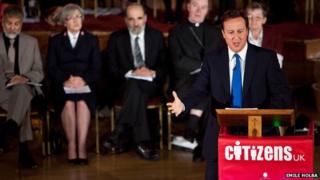 A community group that campaigned for higher wages for low paid workers is to demand longer social care visits in its general election manifesto.
Just three days before the last general election Gordon Brown, David Cameron and Nick Clegg all gave speeches to Citizens UK.
Now the group, which specialises in what it calls community organising, is trying to extend its influence.
Its manifesto - as yet unpublished - will also demand a 20p per litre tax on sugary drinks to raise money for free school meals and children's health initiatives.
It will say that carers should be paid for their travel time, and provide visits lasting at least half an hour.
Avoiding the dull bits
On a summer's evening in Birmingham, the local branch of Citizens UK fills a room in a community centre.
They have worked out how to avoid the dullest bits of political meetings.
No minutes are read or approved.
Every person in the room gets a say, however brief.
Food and drink are laid on.
It even ends on time.
The representatives: from local churches, from a synagogue, from a Catholic school, share anecdotes.
They get a say on which ideas most interest them.
Towards the end, they are encouraged to commit to bringing more people to a later meeting.
There is little conflict; plenty of story telling.
People leave happy, even if it isn't immediately clear what has been achieved,
Party politics
Citizens UK says it is not politically partisan, and its ideas emerge from meetings like these.
Its knack of engaging people has interested parties across the political spectrum.
The Prime Minister's onetime aide Steve Hilton was among those who wanted to learn more.
The Tories praised them in the general election campaign.
But Labour has embraced the group closest, adopting the living wage into its own campaigns.
Citizens UK staff trained community organisers in an initiative led by the former foreign secretary David Miliband.
Labour has promoted the idea of community organising, a concept that originated in the US, in its own ranks.
Trade union representatives are among those involved in the session in Birmingham.
The deputy director of Citizens UK, Matthew Bolton, says: "You could say that some of the church groups might be aligned to the right or that some of the unions are aligned to the left but when they step into the arena that is Citizens UK they know full well that they are participating in a non-partisan organisation."
The agenda
Behind the good humour and banter of the meeting there is a certain steel.
The group - like so many others - has an agenda, and wants influence.
It is seeking to persuade would be Prime Ministers to agree to meet its representatives at least once a year and to attend two of its meetings.
There is no question that politicians on the right and the left fretting about a loss of mass public support wonder whether they can learn from Citizens UK's methods.
Persuading them to embrace its policies will prove more challenging.