All schools must follow core curriculum, Lib Dems to pledge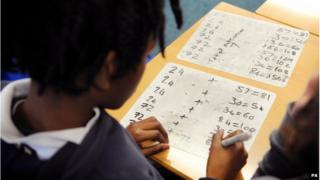 Lib Dem leader Nick Clegg has said all English schools should have qualified teachers and follow a core curriculum.
At present, staff at academies and free schools are not required to have formal teaching qualifications and have broad control over the curriculum.
But the deputy PM said the shift would appear in his party's manifesto at the 2015 general election.
A Conservative source said it was a "shame" the Lib Dems wanted to "roll back" school freedoms.
The Conservative Party has not sought to alter the freedoms of academies and free schools, which must provide "broad and balanced" teaching, including maths, English, science and some religious education.
The Lib Dem announcement comes in the wake of an Ofsted investigation into 21 Birmingham schools, prompted by an anonymous letter alleging that Islamic extremists had plotted to take them over - claims the schools have denied.
Five institutions were put into special measures, with Ofsted raising concerns about the breadth of pupils' education in two academies.
In one, Nansen Primary School, inspectors found music had been removed from the timetable.
A Lib Dem source said people would be "shocked" that "vital subjects" like art and humanities could be dropped.
'Parental guarantee'
Mr Clegg has said the 2015 party manifesto would include a "parental guarantee", meaning that all teachers must be qualified or working towards a qualification.
"Liberal Democrats want more teachers and schools to enjoy freedom from Whitehall diktats," Mr Clegg said.
"But that does not mean parents and children should not have some basic safeguards.
"There is no reason why a child attending an academy or free school should not enjoy the same basic right to be taught by a qualified teacher or to follow a core curriculum as any other child.
"These changes will guarantee parents that, whichever school their child attends, they will enjoy a world-class education that will help them fulfil their potential."
Schools Minister David Laws added: "We know that these reforms enjoy the support of teachers and parents and respond to the recommendations of Ofsted made this week."
Mr Clegg's announcement brings his party into closer alignment with Labour, which says staff at academies and free schools should have qualified status.
'Delusional'
One teaching union welcomed the move but said it should happen now and suggested the Lib Dems must share the blame for the move away from mandatory qualifications in some schools.
"Without the support of the Liberal Democrats, the Conservatives could not have removed the requirement for schools to employ qualified teachers," Chris Keates, general secretary of the NASUWT union said.
"Nick Clegg and the Lib Dems are delusional if they think this announcement can airbrush out the key role they have played in betraying our children and young people by colluding with the Conservatives in the introduction of education policies which have robbed our children and young people of these important entitlements."
A Conservative Party source said: "The Liberal Democrats helped us massively extend academy freedoms by voting for the Academies Act in 2010.
"It's thanks to the votes of Liberal Democrat MPs that 4,000 schools now have the freedom to set their own curriculum, compared to just 203 schools four years ago.
"It's obviously a shame if the Liberal Democrats now want to roll back those freedoms.
"We are taking power away from politicians and bureaucrats in Whitehall and handing it to heads and teachers, as they are the ones who know their pupils best."