Putting the fizz back into the 'No' campaign?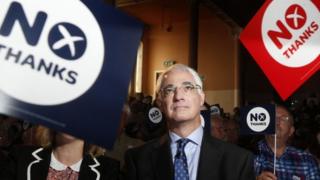 Made in Scotland from girders.
That was the old advertising slogan for fluorescent, fizzy soft drink Irn Bru.
And presumably the teetotal former Secretary of State for Scotland, Jim Murphy, guzzled quite a few bottles of the orange elixir before steeling himself for a public meeting on a street corner -because two empty upended Irn Bru crates became his soapbox.
He leapt on to his makeshift platform and quickly surveyed the territory where the independence referendum could be won or lost.
The drizzly outlook wasn't quite as scenic as Stirling Bridge or Bannockburn - he was in Blackburn Square, Barrhead - a collection of council, and ex-council, houses at the edge of his constituency just south of Glasgow.
The SNP leader Alex Salmond used his party's spring conference speech to appeal to Labour voters to back independence - in order to see off the prospect of Tory governments and to help left wingers disillusioned with New Labour to free themselves from Westminster control, he argued.
Hectoring and negative
With the gauntlet laid down, Labour politicians are now working hard to keep their traditional supporters in the No camp.
Some like Patricia Jack - who lent Jim Murphy her end-of-terrace front garden for his soapbox - always intended to vote 'No'.
But she told me it was "sad" that so much of the campaign had been hectoring and negative and she wanted to see a more emotional and patriotic appeal to her fellow Labour voters.
And the tone of the 'No' campaign - if not the overall message - is certainly being tweaked this week as the campaign enters its final phase.
Against the cacophonous soundtrack of a single but shouting pro-independence heckler, Jim Murphy stressed it wasn't anti-patriotic to "want the best of both worlds" and that "voting 'No' isn't a vote for no change" - the three main pro-union parties had all pledged more powers for the devolved Scottish Parliament.
He was also sporting a lapel badge and standing in front of a banner adorned with a new campaign slogan: "No, thanks."
'Non, merci'
The cross-party 'No' campaign chose the slogan Better Together in order to sound positive but with three months to go to the referendum, research had shown that the phrase hadn't been desperately meaningful to voters, and lacked the clear definition of the opposing team's Yes Scotland.
And as the word "No" would appear on the ballot paper, the time really had come to mention the "n" word.
But its potential negativity would be blunted.
Tested in focus groups, a stark "no" was associated by some of the participants with Ulster unionists rather than Scottish unionists - not the ideal way of holding on to the loyalty - if that's the right word - of some on the left in the west of Scotland whose families had come from Ireland.
So it was softened to "No, thanks".
A similar phrase had been deployed successfully by those in Canada who opposed Quebec's independence - they said "Non Merci".
Street fighting
The "No" campaign has been consistently ahead in the polls but there had been fears at the highest level in Labour not that the referendum would be lost, but that it might be won only narrowly - and possibly on the basis of too negative a campaign.
This, some Labour people felt, could have had damaging consequences.
If Ed Miliband is to become prime minister, then holding on to all, or almost all, of his party's 41 seats from Scotland will be essential.
Clearly a "Yes" vote would consign those seats to history at Westminster if -as Alex Salmond intends - Scotland becomes formally independent in 2016.
But some seats which are Labour at Westminster fell to the SNP at the last Holyrood elections, albeit on different boundaries.
And if the SNP were to be seen to have fought a close-run and positive campaign by the time of the referendum, some in Labour circles feared that former voters might stick with the Nationalists at the 2015 UK general election - reducing Mr Miliband's chances of making it to Number 10.
Scottish glitterati
So the campaign has begun to step up a gear, and an emotional as well as an economic message is more in evidence.
Jim Murphy began the first of his visits to 100 towns this week to give the impression that the "No" campaign -and Labour's campaigners - are willing to fight street by street for votes.
Labour strategists had also been worried that the SNP had been stealing the zeitgeist. The Scottish glitterati - some of them of course, expatriates - were largely endorsing independence.
So this week JK Rowling and her bulging chequebook entered the fray.
Less welcome was Gordon Brown's intervention at Westminster on Monday - making public some private fears over the campaign's tone and raising at least the possibility of defeat when he remarked that "countries can be lost by accident".
And there does still seem to be a reasonable reason for nervousness.
Narrow margin
Scotland's first ever first minister Donald Dewar used to represent the Glasgow constituency of Anniesland.
The SNP won the seat at the Scottish parliament elections in 2011 - by the narrow margin of just seven votes.
And the man who chairs the local Labour Party is voting for independence.
Mike Dyer is a Unite shop steward. His union - consistently Labour's largest funder - decided to remain neutral on the issue of independence, depriving the "No" campaign of a potentially lucrative source of revenue.
He told me that he "wasn't a cuckoo in the nest for the SNP".
The attraction for him of independence was that, "whatever government we get - and I hope it isn't the SNP - but whatever government we get won't be launching attacks on the disabled and benefit claimants like we get from down south. We can end the prospect of a Conservative government ever again in this country."
Shipyards
He conceded that the "No" campaign now sounded "a bit" more positive and that he himself would settle for greater devolution, short of independence but that "I feel the 'No' campaign have left it too late."
Perhaps unsurprisingly, the "Yes" campaign swamped his constituency with canvassers to knock on doors this week.
They met for the night's work in the perhaps incongruous setting of the Royal British Legion car park. Interestingly, its flagpole was empty - the union flag was not fluttering over the gathering campaigners.
But breaking the adherence of some residents to the Union and to Labour proved no easy task.
Elizabeth Whitefield told the "Yes" activists on her doorstep she "loved" the late Mr Dewar, and that a yes vote would "betray those who worked in shipyards" on Royal Navy contracts.
Just down the road, in an area not dissimilar to Barrhead's Blackburn square, Jean Small said she was undecided.
Nuclear weapons
But for all the criticism of the "No" campaign's negativity, the doubts it had placed in her mind were difficult to shift.
"The pound is a big thing - I am worried about the pound," she said, and benefit levels for her disabled son.
There was a more positive response on some other doorsteps, but I asked one of the campaigners, the SNP's Alan Cunningham - brother of the Scottish government minister Roseanna Cunningham - if Alex Salmond's plea to Labour voters smacked more of desperation than confidence.
He said with a smile: "I have never known him to be anything other than confident."
But he added: "We always knew this would be a challenge - we have to contend with 300 years of history... it is like pushing a boulder up a hill - but it is going up that hill and we will get it over that hill."
His fellow campaigner Alan Williamson isn't a member of any political party. He said activists were now stressing that there were risks to voting "No" as well as "Yes".
He said: "If Scotland doesn't vote for independence - if we stick with Westminster, the Scottish people need to know the consequences. There will be more austerity. Nuclear weapons will remain on the Clyde. Scottish voters don't want that."
'False promises'
But just as Labour has the task of holding on to some of their voters, the SNP have a challenge in converting support at the last Scottish elections into support for independence.
Against the odds, the SNP won an overall majority in the Scottish Parliament in 2011.
But this was against a backdrop of a meltdown in Lib Dem support and the SNP picked up backing from those who were disillusioned with the other main parties rather than necessarily riding a wave of support for independence.
Polls so far suggest they haven't herded quite enough people into the "Yes" camp.
Mohad Bhatti had been an SNP activist for five years but just over six months ago, he joined Labour.
Working in the financial services industry, he told me he had been unconvinced by Alex Salmond's answers to fundamental questions on the currency and EU membership.
He said: "We got assertions when we wanted evidence, documented evidence. All we got were false promises."
The SNP insists that, whatever the polls say, the "Yes" campaign's extensive contact with voters suggests they are winning the ground war.
Meanwhile, some Labour figures are experiencing a calming of nerves, believing momentum towards the "Yes" camp has been halted.
But September's referendum might not simply settle the hugely significant question of whether the UK remains united - it could also help determine the result of the next general election at Westminster.
So, to coin a phrase, how people vote in Blackburn Square, Barrhead could have consequences for the voters of Blackburn, Lancashire.