Ministers urged to speed up plain cigarettes plans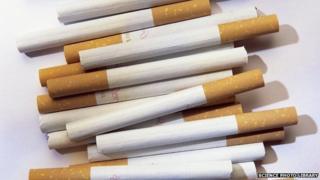 The government is being urged to speed up plans to ban branded cigarette packets, with campaigners warning "time is running out" for action before the general election.
More than 600 medical professionals have written to the British Medical Journal calling on ministers to publish draft regulations as soon as possible.
The Department for Health said a final consultation would begin shortly.
But Labour said there was "no excuse for any further delay".
Ministers agreed, in principle, to introduce plain cigarette packaging earlier this year after an independent report concluded it was "very likely to have a positive impact" on public health and stop children from starting to smoke.
At the time, the government said it hoped to publish draft regulations setting out how the measure would take effect and be enforced before the end of April.
But campaigners said two months had passed and no progress had been made.
In their letter, the group of doctors, nurses and other health workers said there was a "relatively short time for the government to produce the draft regulations if they are to be voted on" before the election next May.
'Overwhelming evidence'
They said the government needed to notify the European Union of the regulations, which could take up to six months, adding that "time is running out to tackle the UK's number one cause of preventable deaths".
In response the Department of Health said the terms of the consultation, which is expected to take six weeks, were being finalised and would be published shortly.
"We are minded to introduce regulations for standardised packaging of tobacco products subject to a final short consultation so interested parties can give us their thoughts on the detailed proposal," it said.
It is understood the regulations were not announced in May because of the "purdah period" on major policy announcements during the European and council elections.
But Labour said ministers were avoiding setting a timetable for banning branded cigarette packets despite "overwhelming evidence" that the move would benefit public health.
"Two months after the government committed itself to standardised packaging, it seems that David Cameron has allowed progress to stall again," said shadow health minister Luciana Berger.
"There can be no excuse for further delay - the government must bring forward the regulations it promised months ago."
'Open mind'
But Forest, which campaigns for smokers' rights, said the government was right "to take its time".
"If the consultation on the regulations is to have any meaning ministers must keep an open mind," the lobby group's director Simon Clark said.
"A decision to introduce standardised packaging must be based on hard evidence that it will stop the next generation of children smoking.
"Conjecture and subjective opinion, which is all we've seen so far, are not enough."
The consultation on packaging will apply to England and Wales. Northern Ireland has indicated it will follow suit with any ban and Scotland already has plans to introduce plain packaging,
Australia became the first country to pilot standardised packaging in December 2012 while the Republic of Ireland is the first in Europe to try and pass a law removing all logos and trademark colours from packets.