Nick Clegg: New tax bands needed for homes over £700,000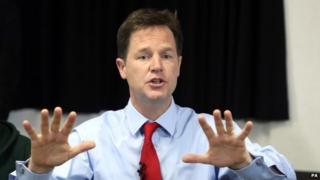 New council tax bands for properties worth a lot more than £700,000 are needed, Lib Dem leader Nick Clegg says.
He told the BBC that at the moment a "Russian oligarch" in a £6m property paid the same amount as a family living in a £700,000 home in London.
He said there should be the same banded approach to council tax for expensive homes as there was for cheaper ones.
But Minister Brandon Lewis said council tax was a charge for the use of local services, "not a wealth tax".
Mr Clegg's comments to BBC Radio 4's Today programme came as the party seeks to fight back from a string of disastrous election results.
The Liberal Democrats lost all but one of their 11 MEPs in the European contest, finishing fifth behind the Green Party. The party also shed more than 300 council seats in local elections across England, and came sixth in the Newark by-election.
'Eccentric' tax?
Insisting that all three major parties needed to say how they would get debt down while investing in new homes, Mr Clegg argued that it was not right the banding system for council tax stopped on higher value properties.
Currently, the highest council tax is paid on Band H properties where the value exceeds £320,000
"That means a family living in a family home in Lewisham pays the same council tax as a Russian Oligarch living in a £6m [property]," he said.
"We have a tax system where we should apply the same banded approach to very higher value properties as we do to lower value properties."
He added: "I strongly disagree with the assertion from the Conservative Party that the only people that they are going to ask to make any additional sacrifice to deal with the remaining black hole in the finances... are the working age poor. I think that's a socially regressive thing to do."
Mr Clegg insisted he was "not saying" a person earning more than the average income of £23-24,000 "is going to have higher taxes".
"We're saying there are various aspects of the tax system in which there are explicit advantages given to people who are very, very wealthy and that is notably the case when you are dealing with the very eccentric way in which we fail to tax very high value properties," he said.
But Local Government Minister Brandon Lewis said introducing a council tax revaluation and higher bands would be "unnecessary and expensive".
It would "push up taxes on people's homes, especially those who have saved, worked hard and undertaken home improvements," he said.
"Instead this government is funding a five-year council tax freeze that has already delivered a 10% real-terms reduction in bills for hard-working families.
"This is in stark contrast to the last administration, when council tax bills doubled."
'Creaking'
Mr Clegg also expanded on his plans for 300,000 new homes a year, which he said could be achieved through the creation of garden cities, like Milton Keynes, Welwyn Garden City and Hatfield.
"If you have a big decision supported by the local community to build a community of significant scale with the right amenities - the schools, the shops, the transport links - that's the way to overcome this constant guerrilla warfare where people are having local disputes about very small scale planning decisions," he said.
In a speech on Monday, Mr Clegg said his party would borrow to fix Britain's "creaking" roads, railways and water networks once the deficit had been axed, saying he did not want "austerity forever".