Gove and May in 'Pickles sandwich' as MPs debate 'Trojan Horse'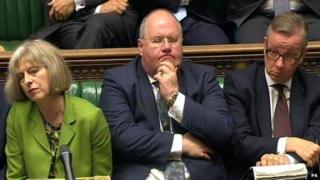 We're fairly used to unanswered questions on Newsnight, but the scene in the Commons on Monday afternoon broke new ground.
Home Secretary Theresa May appeared on the front bench to answer an urgent question from her shadow, Yvette Cooper, on her "conduct with government to tackle extremism".
That was the generic frame for a debate that lasted - arguably - way too long.
Labour was keen to get two specific answers from her:
Who had authorised the posting of the original letter on the Home Office website that swiped at the Secretary of State for Education Michael Gove?
And why it had not been taken down as soon as the home secretary had heard about it?
Mrs May was insistent she had not known the letter was to be published and not authorised its publication.
So far so good.
But who then, asked the Labour bench, had done so?
No answer. She merely nodded to the resignation of her close adviser, Fiona Cunningham, this weekend.
And why had Mrs May not ordered its immediate withdrawal once she had found out, instead of leaving it in place for three more days.
No answer. Merely a throw to an investigation which took it out of her hands.
Sounding exasperated
The question was asked - we reckon - more than 10 times.
But the Labour effort was not strategic or concerted enough to properly rumble her.
As it was, Mrs May sounded exasperated and as if she was going over the same old ground.
The truth is, she yielded almost nothing.
The body language of the Commons was fascinating.
The positioning of May and Gove either side of Communities and Local Government Secretary Eric Pickles was dubbed a "Pickles sandwich" by the press gallery.
The comedy courtesy between Gove and May was fascinating to watch for a while with Gove nodding vigorously at May's line.
May tried to avoid sitting back down next to Gove, but she ultimately failed to do so after being quietly rebuked by Pickles.
But that was all semiotic choreography. Fascinating for a while, but ultimately unimportant.
When Mr Gove got to his feet everything changed.
He told the House he had ordered an inquiry into whether his department did enough to deal with extremism in schools.
Bombshell
He cited the Ofsted chief's findings that some of the schools in Birmingham were being run under a "culture of fear and intimidation".
One school, the report found, took only Muslim children on trips to Saudi Arabia, another had been funding a madrassa from its own budget, a third broadcast a Muslim call to prayer over the school tannoy.
Then came the bombshell.
Mr Gove's department would ensure the active promotion of British values within free schools as way to ward off "narrowness of education" - the phrase politicians are now using when they can't find bona fide examples of actual "extremism".
So what are British values? The making of a decent cup of tea? The ability to passively aggressively apologise? The honed look you give a queue barger when you don't quite want to confront them?
The twitter hashtag pondered them all.
British values - the department later clarified - will centre on democracy, rule of law, individual liberty and respect.
And tolerance of those with different faiths and values.
Lesser-spotted Brown
And curiously, over in another part of the House - Moncrieff's dining room, to be specific - another big beast of politics had been pushing the very same strategy - admittedly to different ends.
The lesser-spotted Gordon Brown was the guest at the press gallery lunch.
He had, he said, been "banging on about Britishness - mostly to empty rooms" during his time in office.
And it was a sense of Britishness that was now needed to hold the Union together, he said.
The answer to either extremism or separatism from these two rather different political animals is to spell out what it means to be British.
So that's the theory, done and dusted. Now what might that mean in practice?