EU hopeful Jean-Claude Juncker criticises British press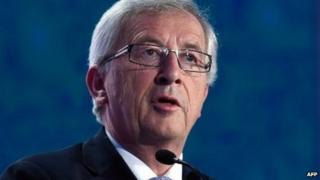 European Commission presidential hopeful Jean-Claude Juncker has criticised the British press, saying their attention on him was a "rather desperate move".
The former prime minister of Luxembourg told a private meeting in Brussels that British photographers were stationed outside his house.
Mr Juncker is the commission candidate nominated by party groups in Europe.
However, Number 10 has reservations about his suitability for the job.
Deep annoyance
Mr Juncker has said he is becoming increasingly frustrated at the way his candidacy for one of Europe's top jobs is being portrayed by the press in Britain.
He told his political supporters to prepare for the worst - slurs against his character and attempts to derail his campaign.
Downing Street wants a dynamic reformer to be the next EU commissioner and is not convinced Mr Juncker is the right sort of candidate for the role. German Chancellor Angela Merkel backs him.
BBC political correspondent Ben Wright, in Brussels, says she and UK Prime Minister David Cameron seem deeply at odds.
Mr Juncker believes he has a mandate to be the next EU Commission president.
The BBC understands that at a private meeting of the centre-right EPP group in Brussels on Thursday, Mr Juncker expressed deep annoyance at his treatment by the British press - in particular photographers perched in trees outside his house.
'Willing to negotiate'
Mr Juncker said he did not understand the hostility from Britain - but reassured supporters they would get through it.
Immediately after the European elections, Mr Juncker said he would not get on his knees to appeal to any government.
But he told the meeting he had spoken to every EU leader except Mr Cameron.
London's not calling, he said, but he is "willing to negotiate".
Mr Cameron and Ms Merkel had a "candid" exchange of views over who should get the EU's top job after a dinner for G7 leaders in Brussels.
A spokesman for the prime minister said: "Their discussions focused on the next European Commission - the issues it should focus on and the appointment of the next president."
Mr Cameron is strongly opposed to Mr Juncker's belief in closer political union between EU member states.