SNP call list of ways Scots could spend £1,400 'patronising'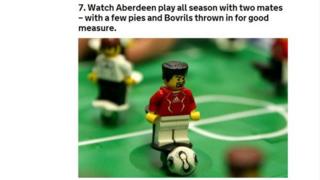 The SNP has described as "patronising" a UK government document suggesting Scottish people could choose to spend extra money on daily fish suppers, pies and Hogmanay celebrations.
A lighthearted list - hosted on the official gov.uk website - offers twelve ways in which Scots could spend the £1,400 which the Treasury says they benefit from as UK citizens.
The SNP's Stewart Hosie called them "bogus figures" and the list "silly nonsense". But a senior UK government source defended the list as "humorous".
Among the suggestions is: "Watch Aberdeen play all season with two mates - with a few pies and Bovrils thrown in for good measure."
The site also suggests: "Share a meal of fish and chips with your family every day for around 10 weeks, with a couple of portions of mushy peas thrown in."
Alternatively Scottish people could "scoff 280 hotdogs at the Edinburgh festival".
The government source said it was a "good humorous way of making a point".
The document originally appeared on a Community page of the Buzzfeed website, created by a UK government account.
A number of Buzzfeed-style documents had been produced said the source.
But Mr Hosie, SNP Treasury spokesman, said: "This is the kind of patronising attitude to Scotland we have come to expect from the Tory Treasury - presumably the establishment elite think we spend all our time eating fish and chips and pies.
"The Treasury figures have been roundly discredited, so this is just adding insult to injury. Real figures are that £300 billion of North Sea tax revenues have flowed from Scotland to the Treasury over the last 40 years... but all we get in return from Westminster is bogus figures and silly nonsense."
A UK government Twitter account later posted a picture of a heart made of Lego. It tweeted: "Our Lego Buzzfeed is building interest but we just love the UK and want to tell everyone!"
In a statement, Lego said it would not have given permission for any of its images to be used.
A spokeswoman for the toy company said: "People all over the world use Lego to depict stories and scenarios - some of it not to our knowledge. We maintain our position of being a politically neutral company."