Voters go to polls in Newark by-election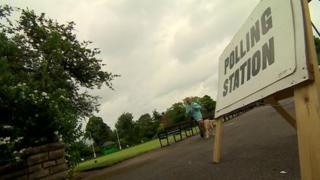 Voters are going to the polls in a parliamentary by-election in the Nottinghamshire market town of Newark.
The Conservatives are defending a 16,000 majority in a contest triggered by the resignation of MP Patrick Mercer.
Polling stations are open between 07:00 BST and 22:00 BST.
Warm, sunny weather is forecast across the East Midlands on Thursday, which could boost turnout in the closely watched contest.
The full list of candidates, in alphabetical order by surname, is:
Baggaley, Paul Stephen - Independent
Bishop, David Laurence - Bus-Pass Elvis Party
Brick, Nick The Flying - The Official Monster Raving Loony Party
Hayes, Andy - Independent
Helmer, Roger - UK Independence Party (UKIP)
Jenrick, Robert Edward - The Conservative Party
Kirwan, David Charles - Green Party
Payne, Michael - Labour Party
Rodgers, Dick - Stop Commercial Banks Owning Britain's Money
Watts, David Kenneth - Liberal Democrat
Woods, Lee - Patriotic Socialist Party