A Thriller? Or last gasp of a 'zombie' government?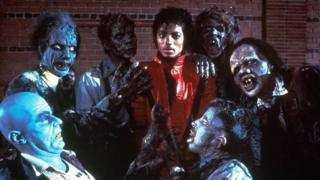 Just about every Labour MP who has graced a broadcast studio has denounced the coalition as a "zombie government".
The dictionary describes such a creature as "mute and listless" with only "the semblance of life". Zombies, that is, not MPs.
The evidence? Well, there are fewer bills being proposed since…eh, the last year of the last Labour government, under Gordon Brown.
Certainly, many of the bills simply give legislative underpinning to announcements which have already been made - from childcare to tax thresholds to anti-slavery measures.
And while the Queen's Speech is usually seen as a summary of the government's legislative programme, this year the monarch has highlighted a range of policy areas that don't require new laws.
But fans of the horror genre will be aware that zombies may well be listless - but they are not benign, and can often harm living beings.
So the Queen's Speech does contain challenges for the opposition.
It reiterates that there will be a Charter for Budget Responsibility, which will be presented to parliament at the same time as this year's autumn statement - and which will be designed to smoke out Labour's tax and spending plans.
It also highlights the welfare cap, which the Conservatives will promise to tighten at the next election.
Compromise
But much of this Queen's Speech exhibits a characteristic not normally associated with zombies. Compromise.
At a basic level, there are the tit-for-tat trade-offs. The Lib Dems get to charge us for plastic bags - that is, if we shop at supermarkets, but not if we patronise smaller shops.
The Conservatives are able to remind us of the introduction of the married person's tax allowance.
These kind of measures allow each side of the coalition publicly to advertise what they bring to the cabinet table.
Then there is the "something for everyone" measures - a small business bill which allows the Lib Dems to say they are toughening up enforcement of the minimum wage, while the Conservatives can claim they are cutting the red tape that's tying up fledging entrepreneurs.
But some individual measures give the appearance of a behind-the-scenes struggle which might have left a bit of blood on ministerial carpets.
Just like some X-rated zombie flick, these are clearly not intended for sensitive eyes and what we see is heavily censored.
Behind the prose
So on schools, we are told "the government is investing £5bn... to ensure that there are sufficient school places, which can be in free schools".
This anodyne language masks the Lib Dem education minister David Laws' backroom battle for even more funding for school places in England, and for less - relatively speaking - to be spent on free schools.
The lauding of the introduction of free school meals in England conceals some fears on the Conservative side that the timescale was too fast and the capital cost of new kitchens could have been better spent elsewhere.
On making it easier for companies to frack for gas - not universally popular with the Lib Dem grassroots, for example - the notes accompanying the Queen's Speech soothingly emphasise "legislation is entirely dependent on the outcome of consultation".
'Unfinished business'
Radical plans for greater private provision and maintenance of roads don't quite make it into the Infrastructure Bill - instead a reform of the Highways Agency is the point of compromise between the two parties.
But rather than characterising the coalition as a zombie government, perhaps it's more helpful to think of it as reaching the end of its natural life.
Political energy was expended in its heyday - not always successfully - on radical ideas for reform of the House of Lords and of the electoral system.
Now, as the era of breathless measures is behind us and the end is in sight, it's time for unfinished business.
A much delayed measure is finally promised - the recall of MPs. This was one of the commitments in the coalition agreement not yet attempted. never mind delivered.
It was first talked about in the wake of the expenses scandal and would allow members of the public between elections to turf out MPs guilty of 'serious wrongdoing' so long as 10% of constituents sign a petition to that effect.
Legacy
But, as set out in the Queen's Speech, campaigners for this change in the law - which includes very vocal Conservative backbenchers such as Zac Goldsmith and Douglas Carswell - might be disappointed to learn that Parliament must first pronounce on who is guilty of wrongdoing.
So, at best, this is sharing power with a naughty MPs' electors rather than allowing them to initiate proceedings and to deliver the coup de grace without political interference.
As the coalition prepares to breathe its last, it will also be thinking of its legacy.
Although it was a Lib Dem minister - Steve Webb - who did much of the detailed work, both David Cameron and Nick Clegg have declared that "ground-breaking pensions reform" is the centrepiece of the Queen's Speech - with people no longer forced to buy annuities, alongside reform of workplace pensions.
The two party leaders concur that this will be the "biggest transformation in our pension system since its inception".
Independent experts say it is not without risk but some in Nick Clegg's party might want to suggest that Herbert Asquith's introduction of the state pension in 1908 trumps today's announcements for historical significance.
Incidentally there was a very modern tinge to the political debates around those first pensions a century or so ago - ultimately, pensioners were only eligible after 20 years residency in the UK, to prevent abuse by migrants.
'What's not there'
The sixties pop group the Zombies, of course, had a worldwide smash with 'She's Not There.'
And there are measures which are missing from the Queen's Speech which, unbridled by coalition, each party would rather have included.
Perhaps the most obvious - though entirely anticipated - omission is the Lib Dems' much cherished mansions tax, which has succumbed to prime ministerial veto.
And while No 10 would probably have preferred to convince potential UKIP defectors that it really is serious about an EU referendum if the Conservatives win the next election, an actual bill will once again be left to a backbencher to propose in the face of Lib Dem opposition.
And the symbolism of an immigration bill has been denied to the Conservatives, too.
In fairness, they believe they can tighten restrictions on so-called 'benefit tourism' from the EU without the need for new legislation.
Election looming
But as they are in serious danger of failing to deliver on their promise to bring net migration down to the tens of thousands by the next election, a legislative statement of intent might have been useful.
Labour would have had a very different Queen's Speech - including a consumer bill to freeze energy prices and a housing bill to expand supply.
But the significance of legislation can often be over-emphasised.
What will really be causing Labour nightmares won't be any lack of new bills by a "zombie" government.
It will be whether, with signs of an economic recovery, the government - and primarily the Conservatives - will remain more trusted to hold the nation's purse strings by the time of the general election.