'Real' people not feeling recovery, says Ken Clarke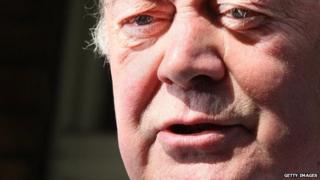 "Real people" have "not yet felt any sense of recovery" from the economic downturn, Conservative cabinet minister Ken Clarke has said.
But the former chancellor told Channel 4 News the nation's situation was improving "more strongly" than that of others in Europe.
Mr Clarke, a Europhile, also said he agreed with David Cameron on the need for a "positive case" for EU reform.
He is being tipped to leave the cabinet at the prime minister's next reshuffle.
The economy has seen strengthening growth recently, with GDP increasing by 0.8% in the first three months of this year.
The government says that wage rises are now outpacing inflation and that people's living standards have started improving.
But Labour leader Ed Miliband has continually argued that ordinary people are facing a "cost-of-living crisis".
'Shattered economy'
Mr Clarke told Channel 4 News: "We have just come through a deep recession; the population of most European countries including the United Kingdom have not yet felt any sense of recovery.
"We're recovering more strongly than the others and the only way you can get living standards up is to have a strong return to competitive growth.
"But in the early stages it doesn't produce much for real people. These are the early stages."
Discussing the growth of anti-EU feeling which saw UKIP come first among British voters in last week's European elections, he added: "It's very easy to persuade them [voters] that they are being let down by the elite, that it's all the fault of foreigners, it's all Brussels, none of which is very worked out.
"What you have to do is put a positive case for reforming Europe and also economic reform here which is already well under way.
"We're doing better than any other Western democracy at putting a shattered economy back together again."
Mr Clarke, who according to newspaper speculation could leave the cabinet in a reshuffle next week, said: "I've been in the cabinet for a very long time. I am surprised to be in the cabinet at my age."
Asked whether he would be surprised if he stayed in post, Mr Clarke, who is 73, said: "I have not the first idea. I reached a stage where believe it or not I am no longer seeking to catch the selector's eye.
"I enjoy being in the cabinet, I am supportive of the government and sooner or later a lot of ambitious young people have got to be promoted."