A shortcut to hitting net migration target?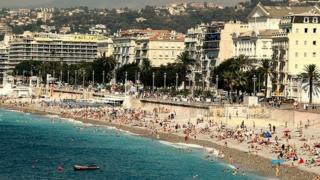 The government could already have hit its target to bring net migration down to the "tens of thousands" a year - if short-term migration was included.
Office for National Statistics figures show a lot more people leave England and Wales for between three and 12 months than move from elsewhere.
These figures for the year to mid-2012 show 136,000 more people leaving.
Official net migration figures do not include people moving to or from the UK for less than a year.
The official net migration figure for 2012 - the number moving to the UK for a year or more, less the number leaving the UK for a year or more - was 154,000.
The Conservatives went into the last general election aiming to cut net migration to below 100,000. The coalition agreement between the Conservatives and Lib Dems did not include that pledge and, despite measures to cut net migration, it seems unlikely it will be reached by next year's election.
However, adding the figures for shorter-term and long-term migration together suggests that the net migration target could already have been hit if the definition of migration was changed to people moving countries for three months or more, rather than a year or more.
---
Number crunching
Top 10 countries people came from to visit UK for 3 to 12 months
Top 10 countries people went to from the UK for 3 to 12 months
India
France
Poland
India
US
Pakistan
Spain
Spain
Pakistan
China
Germany
Australia
Australia
Thailand
Lithuania
US
China
Hong Kong
Bulgaria
Nigeria
Differences between the sexes: More of those visiting England and Wales for between three and 12 months in the year to mid-2012 were women (54%) than men. More of those leaving for more than three months and less than a year were men (55%).
Differences by age: The most common age for both short-term immigration and emigration is 16 to 24. The biggest difference between numbers leaving and arriving, by age, is for those aged 65 and over. There were 66,000 people aged 65 and over who left for between three and 12 months. Just over half were for "holiday or pleasure" and 42% to visit family.
---
So why not switch the measure to include the shorter visits?
Firstly there is the question of international consistency. The Home Office says it uses the UN definition of a migrant as someone who has moved countries for at least a year.
Secondly, the "one year or more" definition for immigration is arbitrary, but is seen as a length of time that means a person will be likely to be working, to need a home and use of public services such as schools for their children or healthcare.
Should we really include people going on a long cruise or spending the winter in Florida/Spain/India in the figures?
Thirdly, and this one is possibly the most important, there is a statistical problem with just adding the two figures together - namely that the numbers of people taking shorter visits does not mean they are all out of the UK at the same time.
Handily, the ONS has looked into this issue and calculates that there were 94,000 people on visits of between three and 12 months in England and Wales on average on each day in the year to mid-2012.
On the same basis the ONS estimates that 136,000 people on visits of three to 12 months were out of England and Wales on each day.
The difference between these two figures for England and Wales shows the UK population was 42,000 lower than it otherwise would have been as a result of short-term migration in the year to mid-2012.
When that 42,000 is taken away from the 154,000 long-term net migration figure for the same year, it cuts the overall figure to 112,000 - still stubbornly above the 100,000 net migration figure.
But that is a lot closer than the most recent figures - and 12,000 is well within the ONS's margin of error for its net migration figure.