Cameron says new EU chief must 'get' need for change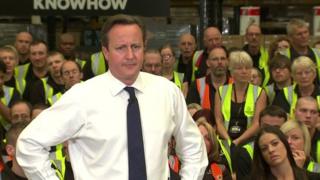 The new head of the European Commission must "get" the need for changes to the way the EU works, David Cameron has said amid a growing row over the job.
The UK opposes frontrunner Jean-Claude Juncker being chosen by EU members.
Mr Cameron said his "clear instruction" to EU leaders was to choose someone who understood that Europe must "respect nation states" and be "less bossy".
But German Chancellor Angela Merkel said she was lobbying for the former Luxembourg leader to get the job.
The European People's Party grouping, of which Mr Juncker is a member, won the largest number of seats in the European Parliament in the May elections and he is regarded as being in pole position to get the job as president of the European Union's executive arm.
But the UK and several other EU countries, including Sweden and Hungary, have strong reservations about his appointment.
The BBC's Ben Wright in Brussels said Mr Cameron's whole political strategy was predicated on being able to renegotiate the UK's membership and to return powers from the EU to the UK.
Mrs Merkel's backing for someone whom Mr Cameron believed was unlikely to help his cause was a concern for Downing Street, he added.
'Too interfering'
Speaking on a campaign visit to Newark - where a by-election is being held on Thursday - Mr Cameron rejected suggestions that he was "wasting political capital" by getting involved in a fight over the issue.
He said it was vital that whoever got the job appreciated that Europe must become more "flexible and open" if it was to compete in the future and that some of the Commission's powers needed to be "rolled back".
"I have a very clear view of what needs to happen in Europe," he said.
"We need a Europe that respects nation states, a Europe that gets the message from last week's elections that the EU has become too big, too bossy and too interfering.
"My view is simple. We need people running these organisations, whether it is the European Council or European Commission, or indeed any other part of Europe who get that. We need people who get it. That is my clear instruction on this and I look forward to the continued debate in Europe."
'Face from the 80s'
Der Spiegel magazine reported that Mr Cameron warned German Chancellor Angela Merkel that Mr Juncker's appointment could bring forward his plans to hold a referendum on the UK's EU membership to 2016.
It quoted Mr Cameron as telling Mrs Merkel at a meeting last week that "a face from the 1980s cannot solve the problems of the next five years".
Mr Juncker, whose main rival for the job is the Socialist candidate Martin Schulz, is regarded by critics an a federalist who believes the answer to Europe's problems lie in closer integration.
The former Luxembourg PM was quoted in Bild - Germany's biggest newspaper - as saying he remains confident of becoming the next president of the European Commission.
And Mrs Merkel's spokesman said she was actively encouraging fellow European leaders to support Mr Juncker's candidacy.
"In all her talks, she is working to ensure that Jean-Claude Juncker gets the required majority in the European Council and that he becomes the next president of the European Commission," Steffen Seibert said.
'Institutional battle'
EU leaders traditionally choose the Commission head on their own, but under new rules have to "take into account" the results of the European elections.
Downing Street has emphasised that it will be national governments - not the European parliament - which will have to agree on the president.
But Ben Wright said an "institutional battle" was looming between EU leaders and the European Parliament about who should have the final say.
Labour said it was "not enough" for Mr Cameron to say the UK did not want Jean-Claude Juncker, as the prime minister was not being listened to in Europe.
"We need a reformer (in the job) and sadly at the moment it won't be a British person and that's because at the moment in Europe, Britain is not being taken seriously," shadow chancellor Ed Balls said.
Mr Juncker, who led Luxembourg for 18 years, is known for his role in chairing the group of eurozone finance ministers that had to make tough decisions about struggling debt-laden countries.
---
Jean-Claude Juncker
Born in 1954, PM of Luxembourg from 1995-2013
Veteran of EU politics who supports its social justice agenda
Chaired Eurogroup of finance ministers during financial crisis
Backs EU integration, played a big role in launch of the euro
Defends EU subsidies for farmers
Wants EU to reach a free trade deal with US
---