Who will be 'top dog' in Newark by-election?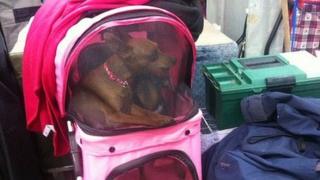 At the Newark showground, there are tables groaning with red, yellow and blue rosettes, but these are not of the political variety.
Look a little closer and you'll see they're emblazoned with the words, Best Whippet or Best Puppy in Show.
Top dog in this competition gets the chance to appear at Crufts, but what is at stake in the town's other big battle - the parliamentary by-election?
Since former Conservative MP Patrick Mercer stood down last month after being found to be in breach of lobbying rules, parliamentarians of all colours have descended to campaign in the Nottinghamshire town.
In the wake of last month's local and council elections, it now seems there is everything to play for.
Palpable excitement
At the 2010 general election, UKIP polled just 4% of the vote, to the Tories' 54%.
But UKIP's excitement is now palpable, given that last week, in a counting area covering three-quarters of the constituency, it gained a two-point lead over the Conservatives.
Roger Helmer, who won a seat for UKIP at the European Parliament in that election, is now campaigning on a Westminster ticket.
"The results for the European election were coming in just as the postal votes for the by-election were going out; you could hardly have had better timing from our point of view," he says as he hands out leaflets in Southwell, to the north-west of Newark.
"So I think we can win. We might not win but whatever happens we're going to make a massive dent in that 16,000 majority."
'Not a safe seat'
Giggling on the doorstep as he tries to meet the eye of a naked man who has been caught unprepared by his campaign team is fresh-faced Robert Jenrick, the Conservative candidate who's hoping to hang on to at least part of that substantial majority.
The result is not a foregone conclusion, he insists.
"This is a seat that has been Labour, so we know that it's not one of those seats that's a safe Conservative seat. We're not complacent."
Neither is David Cameron, who's been up to the constituency three times already, and ordered his big guns, including William Hague, to help out too.
Perhaps the memory of the 1989 Richmond (Yorks) by-election - the last time the Tories won a by-election while in government - where Hague was elected but lost nearly all of a 19,000 majority, is still fresh in his mind.
Labour too, are pulling no punches.
On the day of our visit, both Chris Bryant and Yvette Cooper are campaigning alongside their candidate Mike Payne - and Ed Miliband has dropped in as well.
Hospital focus
They're hoping to garner local support with a campaign around Newark's hospital and ambulance services, says Mr Payne.
"I think the local people here are really clear that we're standing up for local services at the hospital. The A&E is really important and we're fighting its corner."
What he can't say though, is whether it's in his power to reopen it should he win.
Unsurprisingly, the Liberal Democrat candidate David Watts is rather flustered. Today, it's because his caravan has got stuck in a muddy field and he's running late. But the party's general political woes are making themselves felt in this campaign.
'Back on the horse'
In 2010, the Lib Dems picked up 20% of the vote - a tough challenge to repeat in the current political climate.
"It wasn't a good day for us in the Euro elections, and there's no point pretending it was," Mr Watts acknowledges.
"But if you fall off a horse, the best thing to do is brush yourself down, get straight back on the horse again, and that's what we're trying to do," he says.
So back at the dog show, what are the town's other contestants thinking?
Francesca, who's pushing her miniature Pinschers in a pink pram, says her vote is wide open. "I'm not anti, not for [UKIP]," she says, holding the spoils of her last competition - both a red and a blue rosette.
"I don't have an issue with them. I voted Green Party but they (UKIP) would have been my next one on the list - it was between those two to be honest."
With such uncertainty among the electorate, the outcome of Thursday's by-election will certainly not be straightforward.
Here is the full list of candidates standing in the Newark by-election.