Queen's Speech: Lib Dems back 'carbon offset' homes plan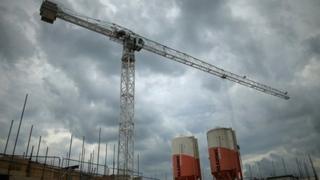 Plans to allow developers to offset carbon emissions from new houses once they have been built will feature in the Queen's Speech, the Lib Dems say.
Firms will have to contribute to carbon abatement schemes if homes they build in England do not meet the required standard of sustainability.
There have been concerns "zero carbon" rules coming into force in 2016 will place too great a burden on business.
But the Lib Dems said they had found a "flexible and cost-effective" solution.
The measure will be included in the Infrastructure Bill, which will form part of the coalition government's last legislative programme before the 2015 general election.
So-called zero carbon homes are those built to comply with energy efficiency and emissions standards with any remaining emissions offset elsewhere.
Cost implications
Other measures in the bill are expected to focus on stimulating house building and deregulating planning amid concerns the failure to build enough new homes to keep pace with demand is fuelling house price rises.
With less than a year before the general election, both the Conservatives and the Lib Dems are keen to put their own distinctive imprint on Wednesday's Queen's Speech.
Other measures outlined in recent days include:
Plans to allow workers to contribute to Dutch-style collective pensions
Plans to stop senior public sector employees receiving redundancy payments and then returning to the same part of the public sector
Plans for greater legal protection to be given to people carrying out good deeds
Measures will also put the law more clearly on the side of employers who do the right thing to protect employees if something goes wrong through no fault of their own
From 2016, all new homes will be required to have no net emissions in their lifetime. Although first agreed by the last Labour government in 2006, the construction industry was given 10 years to prepare for the change.
But amid Conservative concerns about the cost implications of making new homes zero carbon in their entirety, ministers have accepted that builders will be allowed to fit homes up to Level 4 of the new Code for Sustainable Homes rather than Level 5 - the accepted standard for zero carbon homes.
If they choose to do this, however, builders will then have to pay the government a fixed fee based on an agreed carbon price to pay for offset schemes of the government's choosing.
Smaller housing developments will be excluded from the offset scheme, the details and pricing of which will be announced at a later date. A consultation last year set the pricing range between £38 and £90 a tonne.
'Rising bills'
The Lib Dems said the arrangement would enable the industry to contribute to the fight against climate change while also allowing householders to save money through energy efficiency products - such as solid wall insulation and connections to sustainable energy sources.
"This legislation will help cut rising energy bills and help tackle climate change at the same time time," Lib Dem source said. "This simply would not be happening without the Lib Dems in government."
Environmental campaigners have criticised the government's record on energy efficiency, saying take-up of the its flagship green deal scheme has been much slower than expected. Under the scheme, householders can borrow money to install double-glazing, insulation and more efficient boilers.
Labour and the Green Party have expressed concern at reports the bill will also change trespass laws to allow shale gas exploration firms to drill beneath private property without needing the owners' permission.
'Redundancy curbs'
In the run-up to the Queen's Speech, the Lib Dems, who are under pressure after dire European election results, have already announced plans to allow pension providers to poll investments into a single fund.
The Conservatives, meanwhile, have put forward plans to stop senior public sector employees receiving redundancy payments and then returning to the same part of the public sector.
Speaking on Sunday, Financial Secretary to the Treasury Nicky Morgan said "people feel hard done-by" when they see someone made redundant "popping up in a new job within months having had a huge pay off".
"I think this is an issue of fairness and value for money," she told Sky News.