Lord Rennard has made 'generous apology' says ally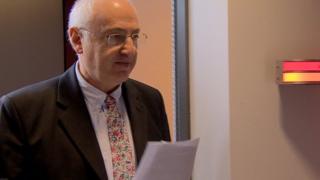 Lord Rennard has given a "generous" apology for his alleged behaviour and should be allowed back into the Lib Dems, his legal adviser has said.
Lord Carlile said the former Lib Dem chief executive's expression of regret for "inadvertently" intruding into "personal space" should end the row.
And he called for an internal report into his conduct to be published.
One of the four women who have accused the peer of sexual harassment said he should be "asked to leave" the party.
Lord Rennard, who masterminded a series of by-election victories for the party over 20 years, was asked to apologise after an internal party probe by Alistair Webster QC in March.
It concluded the claims against him were credible but could not be proved beyond reasonable doubt. He remains suspended from the party and sits as an independent in the House of Lords.
'Held back'
On Thursday, he apologised to Susan Gaszczak, Alison Goldsworthy, Bridget Harris and Alison Smith, saying he accepted the conclusions of the Webster report and wanted to bring "closure" to the matter.
In an interview with BBC Radio 4's World at One, Lord Carlile - a former Lib Dem MP and legal adviser to Lord Rennard - was asked why it took more than a year after the allegations were first publicly aired in the media for the peer to apologise.
Lord Carlile said there had been a seven-month police investigation and the peer had not been shown the findings of the Webster report for many months, a situation he criticised as "secret justice".
A mediation process intended to resolve the issue had broken down "after others withdrew", he added, while the peer had then "held back" the apology until after European and councils polls so not to damage the party.
"Lord Rennard has done everything asked of him in Alistair Webster's report," he insisted.
"Twice it has been found there should be no action against Lord Rennard on the grounds of insufficient evidence - once after a seven-month police report and again after the Webster report.
"Lord Rennard has given a very generous apology. That should be the end of the matter...He has apologised for what Mr Webster said he may have done.
"What Mr Webster found was not that he did it but he might have done it. The apology issued has been very generous and I agree a line should be drawn under this."
Pressed on whether Lord Rennard's apology was good enough, given what the women had alleged, Mr Carlile said: "He has apologised for what Mr Webster said he may have done."
By appealing against the way the Webster report was conducted, Lord Carlile suggested three of the four complainants had chosen to "scorn" the process.
And he suggested Lib Dem leader Nick Clegg and other senior figures had been "misled" by party officials about the content of the report and may have commented without reading it.
Bridget Harris, a former aide to Mr Clegg, said she welcomed the apology and the fact Lord Rennard had "acknowledged the substance of the allegations" but said he should have no future in the party.
She told World at One: "I would ask the question - who does Lord Rennard speak for anymore?
"He has shown on many occasions to have acted completely and deeply inappropriately towards women and taken advantage of his position as a very powerful member of the Lib Dems to do so.
"I think it is a very cut-and-dried case that the party should no longer have its favourite campaigner and working with them and instead they have to ask him to leave."
'Contentious issues'
Both Susan Gaszczak and Alison Goldsworthy have also called on Lord Rennard to be expelled.
A spokesman for the peer said he had yet to receive a response from the party.
A Liberal Democrat party spokesman said: "An appeal has been submitted by three of the original complainants against the outcome of Alistair Webster's investigation.
"Separately, an appeal has been submitted by Lord Rennard against the disciplinary process for bringing the party into disrepute by his failure to apologise, and his conduct after the publication of Webster's conclusions.
"Both appeals will be considered by the English Appeals Panel in accordance with the rules of the party. We cannot comment further on any aspect of that process while it is ongoing."