Newark by-election test for Tories - can they hold on?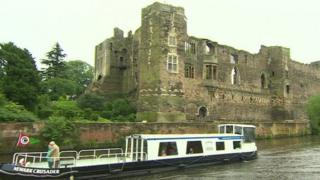 You can always tell when parliamentary candidates start to get a bit weary.
The smile is switched on but the eyes are in pause mode.
And so it is for most of the 11 hopefuls wanting to be the next MP for Newark.
Businessman Robert Jenrick is the Conservative candidate, whose party is defending a 16,000 majority. He has more to lose than most.
Little wonder his eyes looked rather tired when I spotted him in Newark's Market Place. He was earnestly heading off with a group of canvassers, no doubt to revisit parts of the constituency to firm up those promises from would-be Tory voters.
On paper, the Conservatives should hold onto this parliamentary seat... and quite easily. But there are factors giving Tory campaign managers some nerves.
The big one is UKIP. Could Roger Helmer - fresh from his success in the European parliamentary elections - give UKIP its first Westminster victory?
The breakdown of the Euro results for the Newark count put UKIP in first place. The Conservatives were 386 votes behind.
But, as I will no doubt be reminded, that didn't take into account the full Newark parliamentary boundaries, which now include parts of Ken Clarke's former Rushcliffe territory.
Littler wonder then that the prime minister made an unannounced stop-over in Bingham for a coffee and chat in the market town's Palace Cafe.
It was a prompt to the locals that they are now in the Newark constituency, and no longer in Rushcliffe.
I still get calls from viewers unaware of the boundary changes. Who can blame them? Bingham and East Bridgford are part of Nottingham's commuter belt.
'By-election tactics'
Two other factors could derail the Jenrick campaign: one is the weather on 5 June. This by-election has so far been noted for driving rain and unseasonal low temperatures. The turnout in the Euro elections in the East Midlands was just 33.3%. Surely it can't be lower for the parliamentary by-election - can it?
And then there's the unknown legacy factor of the constituency's previous Conservative MP and the reasons for his downfall. Patrick Mercer had built up support and a reputation as an independently minded constituency MP.
His reputation was trashed as a result of his exposure for asking parliamentary questions for cash. He quit parliament just before a highly damning report into his conduct.
When an investigation began into his conduct several months ago, Mr Mercer resigned the Tory whip and sat in the Commons as an independent.
The Conservative Party may feel it's made a fresh start with Robert Jenrick, but some voters in Newark may feel differently and punish the party's candidate.
The other party with much to lose are the Liberal Democrats. They were third in the 2010 General Election, just behind Labour. Its candidate is guitar-playing David Watts, a Nottingham-based solicitor and a senior councillor on the Nottingham suburban borough of Broxtowe.
Who can blame him for playing the blues? Despite his valiant efforts in this campaign, he seems very much on his own. The national Lib Dem leadership appears to be too wrapped up in recriminations to lend a campaigning hand.
So, could Labour produce a surprise and a shock by-election victory? It's unlikely, but not impossible. A strong UKIP presence could spilt the Tory vote and allow Labour to storm home.
Its candidate Michael Payne, like Robert Jenrick, has got some expert back-up in the craft of by-election tactics. MP Chris Bryant has been advising and Ed Miliband's visit energised the Labour camp. But, so far, I haven't detected that sense of a big momentum shift of voters to Labour.
The people of Newark have been bombarded with election leaflets and a succession of cabinet ministers and familiar political faces.
According to one candidate, the last time Newark saw so many parliamentarians was when Cromwell's Roundheads besieged the town in the English Civil War.
After 5 June, this modern day siege by the army of party canvassers will be lifted. Many will find that a big relief.