'Post-Clegg' opinion poll 'inexcusable', says Cable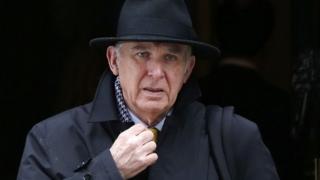 Vince Cable has said a opinion poll commissioned by a Liberal Democrat peer into Nick Clegg's electoral appeal was "totally inexcusable".
Mr Cable said the ICM poll was paid for by Lord Oakeshott - a former ally of his - without his or Mr Clegg's approval.
The poll suggested the Lib Dems would pick up votes in marginal seats if Mr Cable replaced Mr Clegg as leader.
The row comes after the Lib Dems' dire performance in European elections.
One MP has called for Mr Cable to take over as leader, although Mr Cable has rejected this.
The poll, first reported by the Guardian, looked at how the Lib Dems would do in Mr Clegg's own constituency, Sheffield Hallam, in the next election and three other seats held by the Lib Dems: Redcar, Cambridge, and Wells in Somerset.
Alternative leaders
It suggested that the party is on course to lose all four seats next year, with Labour threatening to dislodge Mr Clegg while also taking Redcar and Cambridge and the Conservatives winning Wells.
The polls were conducted in April and early May, before the council and European elections, with 500 people being interviewed in each constituency.
Respondents were asked whom they intended to vote for in 2015 and a series of other questions, including whether they recognised their local MP and what issues would influence their voting intentions.
They were also asked whom they would vote for "if Nick Clegg stepped down as Liberal Democrat leader and Business Secretary Vince Cable moved into the job".
The same questions were asked to gauge how people would vote if Mr Clegg were replaced by either party president Tim Farron or Chief Secretary to the Treasury Danny Alexander.
Although the polls suggested there would be a rise in support for the Lib Dems if any of the three men replaced Mr Clegg, it suggested the party could still struggle to retain any of the seats.
The Lib Dems said polling data from last week's council elections, and other local polls in the Sheffield Hallam constituency since 2010, pointed towards the party retaining the seat next year.
The party said it had got 38.7% of the vote in constituency wards in last week's election, comfortably ahead of Labour on 23.6% and the Tories on 10.7%,
The Lib Dems have also taken issue with how the research was conducted, saying the sample size was too small - meaning a larger margin of error in its outcomes - and claiming young voters were underrepresented.
'Political leak'
Stripping out those who either said they did not plan to vote or did not know whom they would vote for, the Lib Dems said the sample size was less than 300.
"In short, it is impossible to predict a result with any confidence based on this polling," a spokesman said.
Richard Kemp, Lib Dem former leader of Liverpool Council, told Sky News that it was a "spurious poll conducted against the rules with a tiny number of participants".
Mr Cable said: "Lord Oakeshott's actions are totally inexcusable and unacceptable. I have made it very clear repeatedly that he does not speak or act for me.
"Commissioning and publishing polls without the consent of the Member of Parliament, as in the case of Sheffield Hallam, is utterly reprehensible.
"There are undoubtedly raw feelings in the wake of poor local and European election results. We need to respond in a measured way.
"Public speculation about the leadership is an unwelcome distraction, and as I made absolutely clear yesterday there is no leadership issue as far as I'm concerned."
More than 51,000 people voted in Sheffield Hallam in the 2010 general election, when Mr Clegg was re-elected with a majority of 15,000.
ICM had declined to say who commissioned the research, estimated to have cost about £20,000, saying only that it was a member of the Lib Dems.
Before Lord Oakeshott's name was revealed, the Lib Dems had said the polling firm was obliged to adhere to principles of openness and transparency by virtue of its membership of the British Polling Council, with a party spokesman saying: "We have no idea where this polling comes from but it has clearly been commissioned and leaked for political purposes."
'Confidentiality'
But Martin Boon, who carried out the research, said he had referred himself to the British Polling Council amid the row and it had found no rules had been broken.
"My client wanted to retain confidentiality so I have not put their name up to go with it."
He said he had no idea how the research had ended up in the public domain.
There was no evidence, he added, that the person who commissioned the research had any involvement in it being leaked - which would be a breach of the industry's "rules of disclosure".
In a statement, the British Polling Council said: "Unless these circumstances change, the officers take the view that ICM are not obliged by BPC's rules to disclose any further information about the poll."
ICM has stressed that the poll was "weighted" to take account of demographics, whether respondents had voted in the 2010 election, and how likely they were to vote next year.
While the standard industry sample size for political polls was 1,000, it said that 500 was historically regarded as an "acceptable number" for research conducted at a constituency level.
ICM said all the polls were conducted using standard telephone methodology, although it had not "manually adjusted the data in the way we would have for a national poll".