UKIP 'not the answer' to 21st Century issues says Blair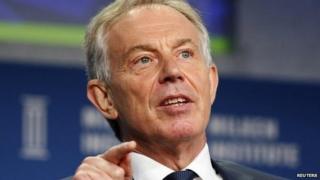 UKIP has "no solutions to the problems of the 21st Century", former Prime Minister Tony Blair has said.
The Labour politician said the EU needed to "listen and lead" in response to the outcome of elections, which saw a rise in support for anti-EU parties, and stop doing "irritating" things.
Mr Blair said it must also "confront and expose" parties like UKIP.
"You look underneath that UKIP facade and you see something pretty nasty and unpleasant," he told BBC Radio 4.
UKIP, which wants the UK to leave the EU, topped the European polls after a campaign in which it repeatedly called for lower levels of immigration from Europe.
It has called for the "volume and quality" of immigration to be brought under control, saying the UK's "open doors" policy under different governments has done damage to living standards and community cohesion.
Mr Blair, prime minister between 1997 and 2007, said the rationale for the EU was "probably stronger than it has ever been" in a world of growing economic superpowers such as China and India.
"You have got to take on people who, within countries, are arguing for a combination of anti-EU and anti-immigration policies which are not the answer," he said.
"I am afraid, with those forces, you have got to be prepared to stand up, lead and take them on."
He urged Labour and other parties not to ape UKIP's stance on Europe and immigration and said Ed Miliband must "stay firm" on his pledge not to hold a EU referendum unless more powers go to Brussels.
He said Britain's future lay in being "outward looking and open-minded", not "closed-minded, anti-EU and anti-immigrant", suggesting such views were "reactionary and regressive".
"Attitudes that are closed-minded, anti-immigrant, anti-EU, 'stop the world I want to get off', those attitudes don't result in economic prosperity or power and influence in the world.
"There is a perfectly good, strong argument to be made - you have to go out and make it."
Mr Blair praised the Lib Dem leader Nick Clegg for his "leadership" in recent years but said the Lib Dems' poor performance in the polls was "nothing to do with Europe".
"I don't want to damage him by saying this, but over the past few years he has actually shown quite a lot of leadership and courage.
"But the problem they have is very simple. They fought the 2010 election on a platform significantly to the left of Labour and then ended up in a Conservative government with a platform significantly to the right of Labour... that is the problem the Lib Dems have and there is not really a cure that."
British politicians, he added, needed to make the case for a European Union that was "relevant" to the lives of its citizens and which drew its influence from acting collectively on the big issues such as energy, defence and crime rather than trying simply to do and regulate more.
Leaving the EU would be a "massive step backwards and totally contrary to the proper interests of the country", he said.
"For a country like Britain, if you want to exercise weight, power and influence in the world, you have to got to do it through alliances and the obvious alliance for us is the one literally on our doorstep."
In an election debate with Mr Clegg in March, UKIP leader Nigel Farage said more than 70% of UK legislation derives in some form from Europe and the UK needs to determine its own future.
Mr Blair and Mr Farage have clashed before. In 2005, the MEP harangued the then prime minister in the European Parliament for his "total failure" to secure economic reform in the EU.
In response, Mr Blair said UKIP "sat with our country's flag but did not represent our country's interests".