English Democrats fail to secure a seat in Euro elections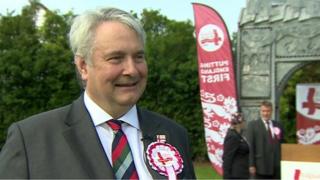 The English Democrats have seen a fall in their share of the votes in the European elections to 0.8%.
The party, which campaigns for an independent England, attracted 126,024 votes - a 1% fall on its 2009 share.
The party's share of the vote fell in every region where it had a candidate.
During the campaign, party leader Robin Tilbrook expressed his hope that the party could win "one or two" seats, but admitted that was unlikely as a result of the "surge" in UKIP support.
The English Democrats' slogans include "English jobs for English workers" and "England says 'no' to EU rule".
Although its share of the vote fell, the party finished above the British National Party in a number of regions, including the south east.
UKIP topped the poll in the European elections, with 27.5% of the votes and 23 MEPs, with Scotland still to declare its result.