Vote 2014: UKIP builds on success of 2012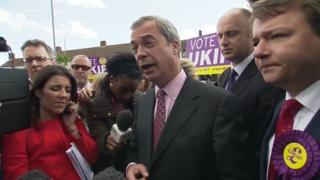 Nigel Farage has said "the UKIP fox is in the Westminster hen house" after his party made strong gains in the local elections.
With 143 councils declared, UKIP had secured 147 seats - at the expense of all the main parties and particularly in parts of Essex.
The BBC's projected national share of the vote put UKIP in third place on 17%.
But early indications were that the party made much less impact in London.
As results continued to come in, Mr Farage travelled to Thurrock in Essex, where UKIP gained five seats, ousting Labour from control of the council.
And he confirmed his intention to stand as an MP in a constituency "south of the river".
'Remarkable performance'
With most of the results counted, UKIP's showing included:
UKIP's projected share of 13% was down on 2013, but Prof John Curtice, of the University of Strathclyde, said it was "still quite a remarkable performance".
The projections "clearly reflect" the party's weakness in London, he added.
Some Conservative backbenchers have called for an electoral pact at the next general election, a poll in which UKIP leader Nigel Farage admitted last week it would be "moonshine" to suggest the party - which has no MPs - stood a chance of forming the next government.
However, he mooted running on a joint ticket with candidates from rival parties who wanted the UK to pull out of the European Union and said he would "do a deal with the devil" to get a referendum on the matter.
In Croydon, former boxer Winston McKenzie, who described the area as "a dump", failed to get elected in South Norwood.
UKIP's success in Basildon, Southend, Castle Point, Thurrock and Harlow led some analysts to note that the party was appealing to the "Essex man" voter once valued by Margaret Thatcher.
Prof Curtice said: "The party's vote is proving to be highest in wards with more older people, fewer graduates and few ethnic minorities."
The performance will leave UKIP's supporters in buoyant mood as they await the results of the European elections, which were staged on Thursday but will not be declared until Sunday night. Before voting began, Mr Farage had promised to cause a political "earthquake" by winning the largest share of the vote.