Local elections 2014: What are the parties hoping for?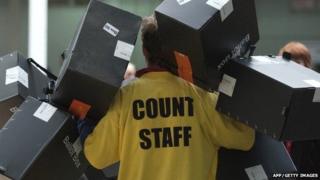 Over the next 24 hours, in draughty town halls around England, ballot boxes will be emptied, voting slips counted and new local governments formed.
Some local authorities are determined to declare their results quickly; others after a good night's sleep.
So, as the counting begins, what will the parties be hoping for?
In total, 4,216 seats are being fought, in each of the 32 London boroughs, all 36 metropolitan boroughs, 19 unitary authorities and 74 district authorities.
There are also five mayoral contests.
Conservatives
The vast majority of the seats the Conservatives are contesting this time round were last fought over in 2010, when they did well enough in the general election to become the biggest party at Westminster, if not manage an overall majority.
There are two big differences between now and then. Firstly, the party has been in power nationally for four years and secondly, UKIP.
In 2010, Nigel Farage's party were tiddlers in local government. The opinion polls now - and their performance at the local elections a year ago - suggest they are not any longer.
The election experts Professors Colin Rallings and Michael Thrasher have done some number crunching and reckon the Tories can expect to lose something like 200 of the 1,574 seats that they are defending.
Keep an eye on super-marginal Crawley, in West Sussex. Can the Conservatives cling on or will Labour snatch it?
It is a similar battle in Croydon in south London. Peterborough is worth watching too, as is Trafford in Greater Manchester.
Labour
Labour took an absolute pasting in the May 2010 general election. It was the party's second worst general election performance in 80 years.
This time round 44% of the seats Labour are contesting are in London, where four years ago, despite a huge defeat nationally, the party actually did quite well.
Professors Rallings and Thrasher believe Labour will gain between 490 and 500 council seats in these elections across England.
On a good night for the party, it will take control of Croydon, Barnet and Hammersmith and Fulham in London - all from the Conservatives.
If they win fewer than 300 new seats and fail to make a breakthrough in the south, many analysts are likely to conclude they have done badly.
Keep an eye on the projected national share of the vote, too: in opposition in 2009, a year before a general election they didn't win, the Conservatives managed 35%.
Liberal Democrats
Let's cut to the chase here: the Lib Dems have been pummelled in no end of elections ever since the party went into coalition government at Westminster.
Since 2010, the number of local authority seats held by the party has fallen by about a third, to just over 2,500 in 2013 - although it had been falling before that too. It was at a peak in 1996, at just over 5,000, but declined to below the 4,000 mark - for the first time since 1992 - by the time of the 2010 election.
Professors Rallings and Thrasher have estimated that the party might lose somewhere between 340 and 350 seats in these elections, almost half of those being contested that the Lib Dems held before polling day.
It is worth keeping an eye on the London boroughs of Kingston upon Thames and Sutton. They are both currently run by the Lib Dems and are home to Lib Dem MPs.
Portsmouth, Eastleigh in Hampshire and Burnley in Lancashire are worth a look too.
The United Kingdom Independence Party
There are plenty of reasons why UKIP is the most significant fourth party to emerge in English politics since the Second World War.
Here are three:
none of the big three parties at Westminster is doing particularly well in the opinion polls
there is a tendency in elections to the European Parliament for people to back smaller, Eurosceptic parties
questioning the UK's place in the European Union has never been more mainstream.
There has been plenty of focus on whether UKIP will win more seats in the European Parliament this time round than any other British party. But that's a question for Monday morning.
How will they do winning seats in town halls? Well, predictions are a bit tricky because there isn't much data to go on from past elections.
Yes, in last year's council elections UKIP won more than 140 seats and averaged 25% of the vote in the wards where it was standing. But different parts of the country are electing councillors this time around.
A few places to watch: Great Yarmouth in Norfolk, Castle Point in Essex and Redditch in Worcestershire.
Others
In last year's local elections, the Green Party of England and Wales lost its place as the fourth biggest party in local government in England.
Who to? UKIP, whose ups and downs have also proven to be a publicity magnet, squeezing the attention the Greens have managed to attract.
But let's insert an important caveat: unlike UKIP, the Greens run a local authority, Brighton and Hove - and the party's former leader, Caroline Lucas, is an MP for the city.
There are no local elections in Brighton this year, so however they do elsewhere, the Greens will still run a council.
In recent days, the party has pointed to a YouGov poll suggesting it was on 12% of the vote, and highlighted that this was better than the Lib Dems were managing.
Two years ago during the race to be London's mayor, the Greens beat the Lib Dems to third place.
The British National Party made something of a breakthrough in local elections several years ago in a few pockets of England.
It did particularly well in the east London borough of Barking and Dagenham, where it won 12 council seats. But since then, the party has lost all of its councillors there, and taken a kicking elsewhere.
One final thing to note with local elections: don't forget independents and small, local parties, such as Putting Hartlepool First, the Canvey Island Independent Party in Essex and Independent Community and Health Concern in Wyre Forest in Worcestershire.
Let the counting, sleep deprivation, spin, celebrations and glum faces begin. It is the moment the politicians are reminded that it's the people who are in charge.