David Cameron says Conservatives will 'fight for Britain' in the EU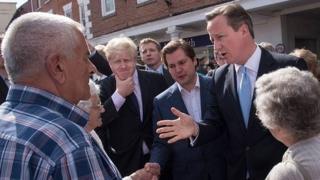 David Cameron says the Tories will "fight for Britain" in the EU, as he made a final pitch for votes ahead of Thursday's European and local polls.
Mr Cameron travelled to Newark - where a crucial by-election is being held on 5 June - with London Mayor Boris Johnson and former PM Sir John Major.
He told BBC News he did not have a "Plan B" on his pledge for an EU referendum after taking back powers.
The Tories won the most votes and seats in the 2009 European Parliament polls.
But the party is third in most opinion polls this time around, which suggest Labour and UKIP will by vying for first place.
There are elections across the UK to the European Parliament on Thursday and elections to 161 councils in England and 11 in Northern Ireland. Voting takes place from 07:00 BST to 22:00 BST.
Results for the local elections will come on Friday. Results for the European elections will be announced late on Sunday. You can follow full coverage with all the latest updates at bbc.co.uk/vote2014
On the campaign trail in Newark, Nottinghamshire, Mr Cameron was quizzed about government changes to the NHS, the future of local hospital and ambulance services and cuts to police numbers.
'More doctors'
The prime minister said the ambulance service had not been "good enough" in recent years but he defended his government's overall record on the public services.
"We're putting money into the health service. We've got more doctors and more nurses here in the East Midlands than when I became prime minister," he said.
In a subsequent interview with the BBC, Mr Cameron refused to be drawn on whether he would be prepared to campaign for the UK to leave the EU if he did not get the changes he wanted from other EU nations.
He said he did not need a "Plan B" as he was confident he would achieve "Plan A" and be able to recommend the UK stay in the EU in a referendum he wants to hold in 2017.
"I am convinced that we will get the changes we need," he told Radio 4's World at One. "My intention is to secure Britain's place in a reformed Europe."
"We should go into these things with a positive, optimistic and clear view of what we are seeking...If I was not confident I could achieve this plan, I would not have put it forward."
'Better life'
On the economy, the prime minister said the UK had not yet recovered all of the ground it lost during the recession but it was now growing faster than any G7 member and had created 1.7 million jobs since 2010.
"For many people they can see a chance of a better life and security, stability for their families."
He said it remained to be seen if people would be better off in 2015 than in 2010, in terms of real wages, but the government had helped millions of people by making the first £10,000 of income tax free.
"When you face a situation where you are creating more jobs but wages are not increasing rapidly, the best thing a government can do is to cut the cost of government and give people money by cutting their taxes and that is what we have done," he added.
The Conservatives won 26 seats in the European elections five years ago, when they were in opposition in Westminster, polling 27.7% of the overall vote.
In Thursday's English council elections, the party is defending 1574 seats and 53 councils they currently control, including Trafford, Solihull, Crawley, Croydon and Barnet.
In 2010, when the majority of seats were last contested, the Conservatives' projected share of the national vote was 35%, eight points ahead of Labour.
But the party is now in government and faces a bigger challenge from the UK Independence Party, leading analysts to forecast that it could lose about 150 seats.