Nigel Farage: UKIP may hold balance of power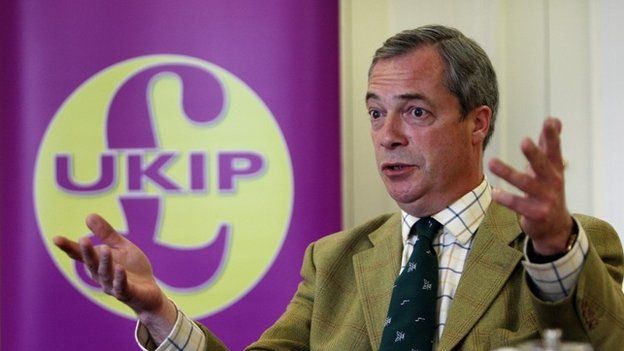 UKIP is aiming to win enough MPs next year to hold the balance of power at Westminster, Nigel Farage has said.
He said he would pile pressure on the largest party - Labour or Tory - to hold an in/out EU referendum.
He predicted Ed Miliband would pledge a referendum if Labour came a "bad second" to UKIP in the local and European elections.
He was speaking to BBC Radio 4's Today programme as campaigning entered its final stage ahead of Thursday's polls.
There are elections across the UK to the European Parliament on Thursday and elections to 161 councils in England and 11 in Northern Ireland. Voting takes place from 07:00 BST to 22:00 BST.
Results for the local elections will come on Friday. Results for the European elections will be announced late on Sunday. You can follow full coverage with all the latest updates at http://www.bbc.co.uk/news/events/vote2014
Opinion polls put UKIP neck-and-neck with Labour in the battle to win the biggest share of the vote in the European elections and the party is expected to make further gains in town halls across England.
Mr Farage conceded UKIP was not likely to do nearly as well at 2015's general election, saying it was "moonshine" to suggest the party, which currently has no MPs, stood a chance of forming the next government.
But with careful targeting, it could win enough seats to hold "the balance of power".
"I would do a deal, post the next election, I would help a minority party in Westminster, I would do a deal with the devil in those circumstances if it got us a referendum," he told Today.
He said his aim in Thursday's election was to put pressure on Ed Miliband to change Labour's position on a referendum - and he predicted the Labour leader would commit to an in/out referendum at Labour's autumn conference if it was beaten by UKIP on Thursday.
BBC Political Editor Nick Robinson said he thought Mr Miliband was unlikely to shift his position - but he said UKIP had achieved the kind of political breakthrough not seen since the early 1980s and the heyday of the SDP.
Mr Farage said UKIP now had a solid support base of voters from across the political spectrum - not just former Tory supporters - and polls suggested 60% of UKIP voters at the European elections "intend to vote for us in the general election as well".
"There are now people who don't just lend their votes to UKIP for European elections, they are actually UKIP voters," he told the Today programme.
He acknowledged his party had made mistakes recently, saying: "When you're out in front and everybody's firing every missile they've got at you sometimes a few cracks begin to show."
But he predicted a "higher calibre" of UKIP MEPs would be elected on Thursday, enabling him to share the media spotlight with other party figures.
"I am going to appoint, over the course of the summer, spokesmen to take on responsibilities for specific areas and they are the people I'm going to push forward.
"I don't think people will vote for us in a general election in numbers if they think it's a one-man band. I intend to change that over the summer."
Mr Farage also said he was open to the idea of Conservative or Labour candidates who wanted Britain out of the EU running on a joint ticket with UKIP at the general election but said he did not believe either David Cameron or Ed Miliband would allow the arrangement.
He said he has had no discussions with the Conservatives about the idea.
In an interview with the Spectator magazine, Mr Farage said he would not seek to lead an "out" campaign in the event of there being a referendum on the UK's future membership of the EU.
The role would require a "big beast", he suggested, but one who was a "figurehead rather than a warrior".
"I'm a fixed-bayonet man, albeit that I don't see myself as a private," he said. "But I see myself leading a division into battle. That's where I fit in."