Tight race as parties make final Euro and local pitch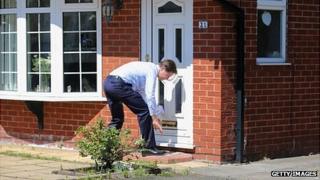 Britain's party leaders have made their final pitches ahead of Thursday's local and European elections.
Labour is neck-and-neck with UKIP in the battle to get the biggest vote share in the Euro election, according to the latest Sun/YouGov poll.
Both parties are on 27%, with the Conservatives in third place on 23%.
The Lib Dems, on 10%, edged back ahead of the Greens, on 8%, according to the survey of 1,874 adults on 19 and 20 May.
Thursday's elections are the most significant test of public opinion before next year's general election.
There are elections across the UK to the European Parliament on Thursday and elections to 161 councils in England and 11 in Northern Ireland. Voting takes place from 07:00 BST to 22:00 BST.
Results for the local elections will come on Friday. Results for the European elections will be announced late on Sunday. You can follow full coverage with all the latest updates at bbc.co.uk/vote2014
At the last European elections in 2009, the Conservatives topped the popular vote, with a 27.7% share.
'Making a difference'
UKIP which came second five years ago, is seeking to go one better this time around while Labour is looking to substantially improve on its 15.7% share last time.
The Lib Dems, which got 13.7% of the vote in 2009, are under pressure to hold onto the 11 seats they won and fend off a challenge from the Green Party of England and Wales for fourth place.
David Cameron, who appeared at campaign events in Nottinghamshire and London on Wednesday, has said only the Conservatives can deliver a referendum on the UK's membership of the EU and said he will not stay on as prime minister after the next election if this cannot be guaranteed.
Labour leader Ed Miliband highlighted the party's ten "cost of living" pledges as he makes multiple campaign stops in London, the south east, the east, the east Midlands and Yorkshire and Humberside.
He contrasted the party's commitments - including a limit on annual rent rises and guaranteed access to a GP within 48 hours - to the other parties' "policy vacuums and political posturing".
"We have shown in this campaign the difference we can make: on housing, on the NHS, on wages, on immigration, on all of the major issues the country faces," he said.
Liberal Democrat leader Nick Clegg also gave a series of interviews as he battles to prevent his party losing most, or all, of its 12 MEPs.
Speaking on Tuesday, Mr Clegg challenged the "forces of chauvinism and insularity" whose calls to leave the EU he said would leave the UK weakened. The Lib Dems, he insists, are the only genuine "party of in".
Chancellor George Osborne turned his fire on UKIP and Labour in a speech to the CBI later, accusing both parties of having economic policies that would harm business
He claimed Labour has a "deeply pessimistic anti-business agenda" and accuse UKIP of "peddling a myth that Britain can stop the world and get off".
'Little European'
He argued that the British economy is "on the rise again" but warn that it would be a "grave mistake" to think the job of sustaining the recovery is done.
Labour hit back, saying the Conservative policy on Europe was the biggest danger.
Shadow chief secretary to the Treasury Chris Leslie said: "The biggest threat to British business would be walking away from our biggest market - the European Union.
"David Cameron and George Osborne's plan for a referendum on an arbitrary timetable on an unknown negotiation is causing huge uncertainty for business.
"Labour wants to stay in the EU, but reform it so it works better for British taxpayers and businesses. And we will reform our economy so we have greater competition and a better deal for consumers and businesses in our energy and banking markets."
UKIP leader Nigel Farage responded to the attack by describing Mr Osborne as a "little European" - and accusing the chancellor of lacking confidence in the British people to manage their own economic affairs.
"Goodness me, Iceland - with a third of a million people - has got a trade deal with China, we can do even better than that.
"So, I think, to be honest with you, George Osborne is a 'Little European'. He thinks that Europe has to be in charge of Britain's global trade and UKIP's got a bigger, broader, global vision."