No2EU happy with debate on workers 'oppression'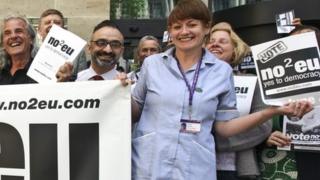 The No2EU Party has said it is "ahead of the curve" in its criticism of Europe despite conceding it is unlikely to get any MEPs elected.
The party, co-founded by the late union leader Bob Crow, is fielding 60 candidates across the United Kingdom in Thursday's European Parliament polls.
It says the EU is "oppressing" workers' rights by backing privatisation.
It has accused UKIP of "fake" opposition to the EU, saying the party backs its free-market policies.
There are elections across the UK to the European Parliament on Thursday and elections to 161 councils in England and 11 in Northern Ireland. Voting takes place from 07:00 BST to 22:00 BST.
Results for the local elections will come on Friday. Results for the European elections will be announced late on Sunday. You can follow full coverage with all the latest updates at http://www.bbc.co.uk/news/events/vote2014
While it shares UKIP's goal of leaving the EU, No2EU says its rival is a cheerleader for privatisation of railways and other industries and the use of zero-hours contracts.
When it fielded candidates in 2009, the party got 0.5% of the vote. It is hoping to improve on that this time around, with its strongest showing expected to be in the eastern region.
But it said its primary purpose was to draw attention to the damage the EU was doing to collective bargaining and the rights of workers through its policies of austerity and "fiscal fascism".
"We are not standing in this election to get elected but to engage in debate and because there is no-one putting forward our message," said the party's spokesman Brian Denny, from the RMT union.
"If we get our deposits back it will be a step forward.
"If we get 2.5%, we will get our deposits back and you will see us again in 2019."
Mr Denny said its campaign was in honour of Mr Crow, who died in March and whose daughter Natasha is standing as a candidate in London. "We are doing it for Bob," he added.