Christian Peoples Alliance pitches for Eurosceptic votes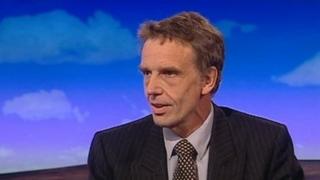 The Christian Peoples Alliance has urged voters who want to leave the EU but retain influence in the world to back it in the forthcoming EU election.
The party is fielding MEP candidates in east and south-east England and London.
Leader Sid Cordle told the BBC that it was aiming to retain its deposit, which requires parties to win 2.5% of votes, in each of the three electoral regions.
But it was difficult for smaller parties to compete with better funded outfits like UKIP, he said.
He said the party was distinct from other Eurosceptic movements because it had drawn up detailed plans of what would happen to the UK after it withdraws from the EU.
There are elections across the UK to the European Parliament on Thursday and elections to 161 councils in England and 11 in Northern Ireland. Voting takes place from 07:00 BST to 22:00 BST.
Results for the local elections will come on Friday. Results for the European elections will be announced late on Sunday. You can follow full coverage with all the latest updates at http://www.bbc.co.uk/news/events/vote2014
"We're beginning to get our message across," Mr Cordle said, adding that the current election campaign had gone "very well".
"A good result would be having a couple of people elected," he said.
"But if we don't get our deposits back we're going to be absolutely at square one."
He concluded: "If you believe that you have been deceived by various governments about what the EU is and does, if you belief it is time for us to vote again and leave the EU, but you want the country to continue to play a major role in the world, and you believe the country can be prosperous outside the EU without excluding whole races of people, then we are the party to vote for."
The party is also fielding 55 candidates in the local elections, concentrating on Newham - where it also hopes to win a mayoral post.
Mr Cordle made headlines last week when he told BBC Two's Daily Politics programme that storms in the UK could "possibly" have been caused by God's anger at gay marriage legislation.
"A lot of Christians believe that God is angry over gay marriage and God can actually show that anger," he said.
In 2009, the party ran a combined list with the Christian Party in the European elections and gained 249,493 votes, or 1.65% of those cast.
The Christian Peoples Alliance won 56,771 votes at the previous European elections in 2004.