English Democrats hope to win 'one or two' MEP seats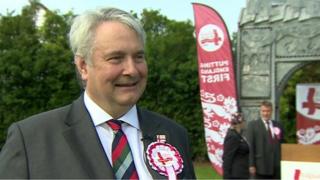 The English Democrats are hoping to secure representation in the European Parliament for the first time, party leader Robin Tilbrook has said.
Mr Tilbrook said his aim was to win "one or two seats", but he acknowledged that the chances of achieving this were reduced by the popularity of UKIP.
"We have put up a better campaign than we were able to do last time," he said.
"But we are still vastly under-resourced compared with most of our competitors."
Launching his party's campaign in April at Fobbing in Essex, an important site in the 14th Century peasants' revolt, Mr Tilbrook had said: "Let the English revolt begin."
There are elections across the UK to the European Parliament on Thursday and elections to 161 councils in England and 11 in Northern Ireland. Voting takes place from 07:00 BST to 22:00 BST.
Results for the local elections will come on Friday. Results for the European elections will be announced late on Sunday. You can follow full coverage with all the latest updates at http://www.bbc.co.uk/news/events/vote2014
This was followed up by a party election broadcast in which candidates recited slogans including "English jobs for English workers" and "England says 'no' to EU rule".
'Diminished'
The party had been "really pleased" by the response to its campaign video - despite some stinging criticism on social media site YouTube, he said.
"The theory of campaigning is that whatever you say you want your opponents to hate and your supporters to love," he said.
Asked what a good result on Thursday's European election would mean, Mr Tilbrook told the BBC: "Winning one or two seats."
But he added: "The chances of doing so are probably diminished by the surge in support for UKIP."
In the 2009 European parliamentary elections, the English Democrats won 279,801 votes.
Although this was more than double its tally of 130,056 in 2004, it was still not enough to earn them an MEP.
In the forthcoming elections, the party is also fielding 36 candidates in councils across England - but Mr Tilbrook said its focus was on the European Parliament.
Mr Tilbrook founded the English National Party in 1998 and the party - which was renamed in 2002 - achieved its first major success in 2009 when Peter Davies won the Doncaster mayoral election.
But Mr Davies quit the party last year warning there had been an influx of new members joining them from the BNP.