David Cameron 'alert' to danger of housing bubble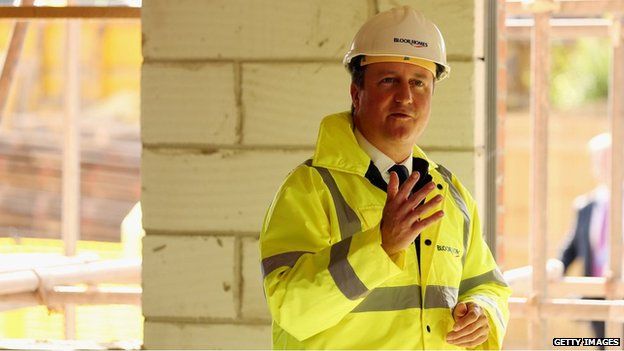 Prime Minister David Cameron has said the government is "alert to any dangers and problems" associated with rapidly rising house prices.
On BBC Radio 4's Today programme, he was asked to respond to Bank of England governor Mark Carney's warning that the booming market was now the "biggest risk" to long-term financial stability.
He said he agreed with Mr Carney.
It was the Bank of England's responsibility to identify asset price bubbles and "act on them", he added.
But Labour's shadow work and pensions minister Stephen Timms said he was "concerned" by the government's position on housing.
The Resolution Foundation, a not-for-profit research and policy organisation which says its goal is to improve outcomes for people on low and modest incomes, has estimated that 770,000 vulnerable households could be "imprisoned" by a limited ability to switch to another mortgage deal when interest rates begin to rise, which is expected in 2015. That represents about one in 10 mortgage holders in the UK.
Its report suggested that homeowners in London and eastern England were most exposed to an interest rate rise.
Meanwhile the Office for National Statistics has said UK house prices rose by 8% in the year to the end of March.
"It's absolutely right that we are alert to any dangers and problems," Mr Cameron said.
"This government hasn't just talked about that, we have actually given to the Bank of England, and the financial policy committee, the tools and responsibility to call out any problems in our economy, any bubbles in our economy, and to act on them."
Ministers have asked the Bank to examine the effect of the government's Help to Buy scheme, which enables people to take out mortgages on homes worth up to £600,000 with a deposit of just 5%.
Mr Cameron said: "Of course we will consider any changes that are proposed by Mark Carney."
But the Conservative prime minister rejected the idea that local authorities run by his party were keeping house prices high by blocking new housing developments.
"As a government, we have radically changed the planning system because we know that more houses have to be built," he said.
Asked whether his views on housing made him a Thatcherite, he said: "Since the Second World War, Conservative prime ministers have always believed in a property-owning democracy.
"I think the introduction of the right to buy and those discounts [on the purchase price of council housing] that Margaret Thatcher introduced were incredibly important in our country.
"I've tried to relight the right-to-buy fire, as it were. I want to see more people buy and own their homes.
"I can remember the moment I walked through the door of the first flat I bought and the pride that you feel, and you sense that it is your own, and you can develop and improve it. It is a deep, natural, human instinct, and I fully support it.
"That's what the help-to-buy scheme is all about. That is what putting rocket boosters under right to buy, so that people can buy their council flat or housing association flat, that is what that is all about.
"It's been very challenging in recent years because we had the appalling boom and bust and crash, and the banks have been taking time to recover, so it has been difficult for people to get the loans they need.
"But all of this, like the rest of the economy, is mending and people are able to get those loans and buy those flats."
Mr Timms, the Labour MP for East Ham, told BBC Two's Daily Politics programme: "We've had lots of examples of unsustainable booms presided over by Tory governments that have been destroyed by housing bubbles.
"My concern is that we could be heading in that direction again now."