Ed Miliband sets out Labour's minimum wage plans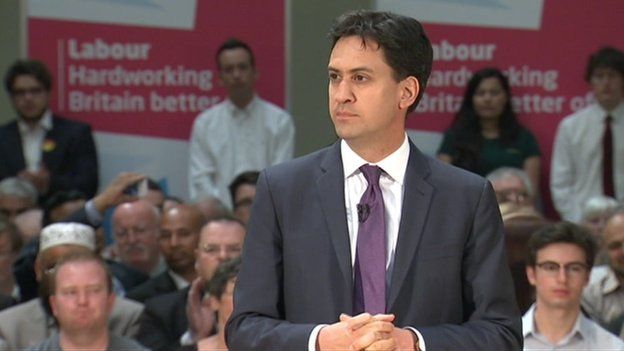 Ed Miliband says a Labour government would set a statutory minimum wage target linked to average earnings, as he set out plans to tackle low pay.
The party will announce an exact figure - covering the years 2015 to 2020 - nearer the general election.
Mr Miliband said it was a "scandal" that there were five million people in work who "can't make ends meet".
Both the Conservatives and Liberal Democrats have already said they want a rise in the minimum wage.
However any major increase is likely to be criticised by business groups worried that it would drive up costs and damage competitiveness.
The Prime Minister's official spokesman said Downing Street believed that as a result of economic growth there could be a real terms increase in the level of the minimum wage, but that it should remain a matter for the Low Pay Commission to recommend its level.
Mr Miliband said there would always be voices against change, but insisted it was "time to raise our sights" on tackling low pay.
He said Britain's future lay in higher productivity, skills and wages.
The Labour leader today unveiled a report by Alan Buckle, the former deputy chairman of KPMG International, which details proposals to overhaul the Low Pay Commission.
The Buckle report sets out a new framework for the commission with a five-year target to increase the minimum wage, and a strengthened role in tackling poverty and raising productivity.
It calls for greater powers for HMRC and local councils to tackle the 300,000 people illegally not paid the national minimum wage, and for the government to take the lead in becoming a "living wage" employer.
Mr Buckle said a clear, long-term goal to increase the minimum wage over the lifetime of a parliament was achievable and would be good for citizens, business and government.
In a speech to party activists in the West Midlands at the launch of the report, Mr Miliband said it was a "basic right" that hard work should be rewarded with fair pay.
He said Labour's plan would restore "the basic bargain linking hard work to economic security".
Labour will not say what the final level for the minimum wage would be, but a source said it would be a "stretching target".
Addressing party activists, Mr Miliband said: "This is the generational question, and it goes beyond party, it goes beyond one government, it goes much deeper than that.
"It is about who we are as a country, who we recover to be."
Mr Miliband said: "It is time to write the next chapter in the battle with low pay. And that is what our economy demands, because work doesn't pay for enough people."
He added: "The minimum wage will rise by more than average earnings in the economy as a whole as part of a five-year ambition to restore the link between doing a hard day's work and building a decent life for your family."
Earlier, Mr Miliband told BBC Radio 4's Today programme: "This gets at what is a terrible scandal in this country, which is that we have still five million people in paid work unable to make ends meet...
"We've got to go further in tackling the problem of low pay."
Mr Miliband said he wanted the minimum wage to rise in proportion to average earnings during the next parliament.
He emphasised that he was setting out a "framework" rather than an exact figure, and that Labour would consult businesses.
Liberal Democrat Business Secretary Vince Cable has also proposed setting a long-term target and Chancellor George Osborne has called for the minimum wage to rise to £7 an hour.
The minimum wage will increase by 19p an hour to £6.50 from October.
Katja Hall, chief policy director of the CBI business group, told Today: "I think we need to recognise that the system we have at the moment has been really successful and that system involves the setting of the minimum wage by an independent Low Pay Commission.
"They have done a really good job and we think it's much better the job is left to them rather than given to politicians."
Mr Miliband said the European Parliament election this week was "very unpredictable" and that the recent increase in support for the UK Independence Party was due to "discontent with the system".
It was up to Labour to show voters that the country "can be better" in the run-up to next year's general election, he added.
BBC political editor Nick Robinson said that if, after four years of austerity, Mr Miliband did not win what is a national election, he would "have some questions to answer".
Related Internet Links
The BBC is not responsible for the content of external sites.