Cameron, Miliband and Clegg deliver pre-election pitches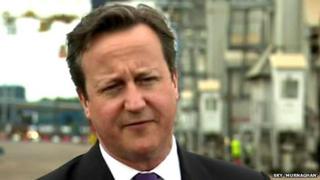 David Cameron, Ed Miliband and Nick Clegg have taken to the TV studios to appeal for support ahead of Thursday's European and local elections.
PM and Conservative leader Mr Cameron pledged to "get stuck in" and secure a better deal for the UK in the EU.
Mr Miliband said Labour's polices would reverse the "deep discontent about the way the country is run".
And Lib Dem Mr Clegg said his party had shown the "courage of our convictions" by being openly pro-EU.
Appearing on Sky News' Murnaghan programme, Mr Cameron said his party had a "very clear message" for voters.
"Labour and the Liberals think there is nothing wrong with Europe, UKIP think there is nothing right, we think you've got to get stuck in, change it, get a better deal for Britain and give the people a referendum," he said.
'Encouraging'
He reiterated his pledge to reform the UK's relationship with the EU if the Conservatives win an overall majority at the 2015 general election, before putting the renegotiated settlement to voters in an in/out referendum in 2017.
"I don't want a referendum now, because you'd be giving people an unacceptable choice: the status quo that isn't working properly, or leaving altogether which would be bad for Britain," he said.
"Let's make the changes, get a better deal, and then have the referendum."
Mr Cameron denied that the Conservatives' pledge to bring net migration down to the tens of thousands by 2015 was unlikely to be met, saying: "The point of having this target is that it is what I want, and what the British people want.
"We're working towards it - we're doing everything we can to make sure we deliver on it."
He added: "It's encouraging that we're creating jobs in Britain and the overwhelming majority of those jobs are going to British nationals, who are being trained and educated in our schools and are ready for the workforce."
Mr Miliband, also on Sky's Murnaghan programme, said the forthcoming election, at which voters will choose their representatives at the European Parliament, was "one of the most unpredictable elections that anyone can remember".
This uncertainty "reflects a deep discontent about the way the at the country is run, a sense that ordinary families are not getting a fair crack of the whip, a fair shake. A sense that it is run for a few people at the top", he said.
"A question in a few peoples' minds is: can any politician turn this around?
"I passionately believe we can, that is why Labour has been campaigning on the policies that I think can make a difference to that central question."
'False promise'
He again outlined the conditions under which Labour would push for a referendum on the UK's EU membership.
"If there is any transfer of powers from Britain to the EU, we would have an in/out referendum.
"I've said that is unlikely to happen in the next Parliament, because we've got no plans for that transfer of power to take place, but people know that it has happened in the past so it remains possible."
Mr Miliband said that if he were to become prime minister after the next general election, he would focus his priorities on the NHS and "tackling the cost-of-living crisis" instead of debating the UK's place in the EU.
"I've tried to give people an honest sense of my priorities," he said.
Although he said Labour had been "wrong" on immigration in the past and vowed to be "firmer", he also criticised Mr Cameron's pledge to cut annual net migration to below 100,000.
"That is a false promise - he is miles away from that promise," he said.
Meanwhile, Mr Clegg, on BBC One's Andrew Marr Show, said the Lib Dems had "broken the mould of traditional two-party politics".
"We are delivering countless signature-tune Lib Dem polices that we couldn't possibly deliver from the opposition benches," he said.
"We have shown in this European campaign the courage of our convictions," he added, referring to his depiction of the Lib Dems as the "party of In".
'Phony'
Opinion polls have suggested that the party could lose all 12 of its MEPs, but Mr Clegg said: "Polls go up, polls go down."
The Lib Dems were "more united and resilient than our critics suggest", he continued.
He also delivered some strong criticism of the Conservatives' "petulant" approach to negotiating reforms with the EU.
This had originally been presented as a grand resettlement, but had become a short wish-list of "minor tweaks", much of which were as desirable to all parties as "motherhood and apple pie", he said.
His coalition partners' EU policies were "worse than phony", he concluded.