Iraq inquiry delay very serious, says senior Tory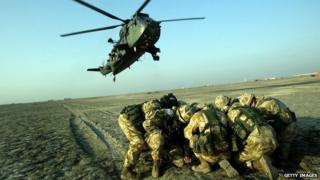 Delays to the publication of the official inquiry into the Iraq war have become "very serious", the head of an influential Commons committee has said.
Conservative MP Bernard Jenkin said the report was "at least four years overdue" and an explanation was needed.
Mr Jenkin, who chairs the Public Administration Committee, urged ministers to "sort this out".
The government said it had been in talks with the inquiry and that the process would end as soon as possible.
Sir John Chilcot's inquiry into the war started in 2009 but two years later it was still taking evidence from key witnesses.
There is increasing frustration that Sir John still has not published his report.
'Hold-up'
The delay is being blamed on discussions between the inquiry and Cabinet Secretary Sir Jeremy Heywood over the publication of classified notes and conversations between the then Prime Minister Tony Blair and the former US President, George Bush.
Mr Jenkin told the BBC Two's Daily Politics programme he had written to Sir Jeremy and Cabinet Office minister Francis Maude.
He also warned that both men could be called to his committee to explain what was being done to resolve the situation.
Mr Jenkin said: "It's very serious that this report is now at least four years overdue, so we've written to the minister to ask for an explanation as to why these delays have occurred, what is holding up the publication of the report and how these issues are going to be resolved."
Mr Jenkin added: "We may well call for the minister or indeed for the cabinet secretary to come and give us evidence to explain how they're going to sort this out."
'Political journey'
A Cabinet Office spokesperson said there had been a constructive dialogue with Sir John's inquiry and the process would be concluded as quickly as possible.
Former Lib Dem leader Sir Menzies Campbell told Daily Politics that full disclosure of the documents in question was essential in the public interest.
He said it would show "the political journey" that the Labour government had taken to involve the UK in what he said was "the most serious foreign policy blunder since Suez", including the central question of when Mr Blair committed the UK to participation in military action.
And former Labour minister Kim Howells said it should be possible to publish correspondence between the former UK and US leaders while redacting any details that endangered national security.