Vince Cable signals zero-hours contracts re-think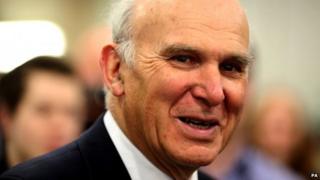 The government is considering giving workers on zero-hours contracts the right to request fixed contracts, Vince Cable has said.
The business secretary said there was evidence of abuse by employers, in particular over exclusive contracts.
Speaking at the Resolution Foundation in London, he said the government wanted "to move forward".
But he said Labour's idea of giving workers the automatic right to a fixed contract after a year was not "wise".
Zero-hours contracts, which allow employers to hire staff with no guarantee of work, are popular with many companies because they offer flexibility.
But critics say they can leave workers with little financial stability or security, few employment rights and not enough work.
'Balance'
The government says such contracts offer an average 25 hours work a week and can be a good means of gaining experience.
However, Mr Cable said he believed employees could be given the right to request fixed contracts in the way they can currently request flexible working.
"I think that is an area in which we need to move forward and we are looking at how we can best do it," he said.
The Department for Business and Skills had just completed a consultation on the issue and no decisions had yet been taken on changes to the rules, BBC political correspondent Carole Walker said.
She added that she understood Conservative ministers in the department were prepared to consider the idea of a right to request fixed contracts.
One senior source said it was important to get the "balance" right, retaining flexibility.
Speaking last month, Labour leader Ed Miliband promised to ensure workers could demand a fixed-hours contract when they had worked regular hours over six months for the same employer.
He added that employees should receive a fixed-hours contract automatically when they had worked regular hours for more than a year - unless they chose to opt out.