Tory MPs get call to arms for Scotland fight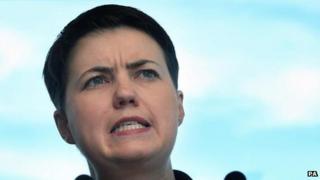 Never let it be said that the Conservative parliamentary party did not do its bit to try to save the United Kingdom in 2014.
For such is concern at Westminster about the narrowing of polls in Scotland that some Tory MPs are finally heading north to join the campaign to say no to independence.
I have been told that Conservative MPs packed into Committee Room 19 in the House of Commons on Monday night to hear their leader in Scotland, Ruth Davidson, issue a call to arms.
She told them that it was wrong to think of Scotland as a no-go area for Tories and that 412,000 people voted for the party in 2010. She also said the campaign was not just about reaching voters in the so-called "central belt" but also those across Scotland.
So Tory MPs said they are heading to areas where they feel they can make a difference such as the Borders, Aberdeenshire, Perthshire and Galloway. "
"We are clearly not sending anyone to Easterhouse," said one MP who was at the meeting.
"But nearly half a million people voted Conservative in Scotland at the last general election. That is quite a lot of voters to get out."
MPs at the meeting were not just those who are Scottish but also those with Scottish family connections.
Another MP said: "This is a fight for survival and we are up for it. There is nothing going on at Westminster and we are all bored sick of fighting UKIP so I think we are looking forward fighting the good fight in Scotland."
One of the first Conservatives out of the blocks will be the prime minister who is expected to take a train north to Scotland very soon.
And for those Tories not keen on the Edinburgh sleeper, they could also do a spell at the Better Together phone bank in London.