MPs vote to back call for end to unpaid internships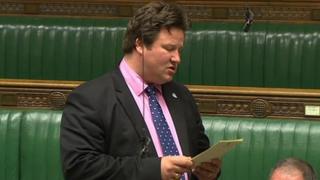 MPs have voted in favour of a call to outlaw unpaid internships.
The Commons voted by 181 to 19 to take forward a Ten Minute Rule Bill which would make it an offence for employers not to pay interns for their work.
Conservative MP Alec Shelbrooke said unpaid internships were an "impediment to social mobility".
Ten Minute Rule Bills rarely become law as there is not enough time available for them but are a good way of raising a subject and demonstrating MPs' views.
Mr Shelbrooke, the MP for Elmet and Rothwell, said internships were vital in helping people get on in their careers but were too often only available on a "who you know, not what you know" basis.
Many employers, including some MPs, routinely advertised for unpaid positions, he said.
Rewarding work
This left aspiring applicants in a Catch-22 situation where they did not have enough experience to get a job but did not have the cash to work for free to gain the experience needed to make them more employable.
"In a nation such as ours, nobody should be expected to work for free. Work should be rewarded," he said.
"Those who would oppose this Bill need to be able to explain to young people why they believe only their wealthy peers should have access to sought after careers.
"I am sure many MPs on all sides would baulk at the idea of children only getting access to a decent education if they have a wealthy background.
"But this is the situation we're allowing to continue in the early employment market."
Opposing the bill, Labour MP Barry Sheerman said he supported any efforts to tackle exploitation but a "heavy-handed" ban could damage business and a voluntary approach was preferable.
"I want us to move more positively to have a charter that everyone understands, that they sign-up to in terms of the fair treatment of young people doing work experience," he said.