Tory v Labour in 'birthplace of democracy' in England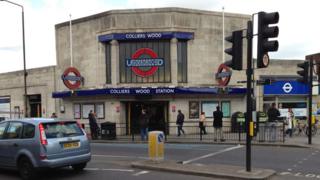 Labour is expected to make solid gains at next Thursday's local elections - but can Ed Miliband's party win in a straight fight with the Tories? I visited a key London battleground to find out.
On this very spot, in 1253, Henry III signed the Statutes of Merton, establishing parliamentary law throughout England.
Some see Merton Abbey as the birthplace of democracy, although these days it is better known locally as the site of the Sainsbury's Savacentre.
It happens to be a crucial swing seat - targeted by Labour, coveted by the Conservatives - in next Thursday's local elections.
But that means little to the late afternoon shoppers streaming out of the supermarket. The Statutes of Merton would have excited more interest.
"I traditionally vote Labour but they are all terrible. I am probably going to spoil my ballot paper," says 24-year-old physics student Oliver Curtin.
"We are going to Poland on that day. I have never been interested in politics. I don't normally vote," says a young Polish man.
A middle-aged pipefitter, originally from Northern Ireland, says he has never voted either as it's a "waste of time" - but he is thinking of casting a ballot for UKIP this time.
"It's immigration," he explains.
"There are Romanians working on the job. They are not qualified but they are on a pound more than me. That's what I don't like."
Next Thursday is a London-wide election that will see all seats in each of the 32 borough councils up for grabs - just under half the 4,200 being contested across England as a whole.
The last time London voted in council elections - on the day of the 2010 general election - Labour bucked the national trend, gaining 36.6% of the vote, but the majority of the 17 boroughs it controls are in inner London.
'Too cruel'
It is now targeting the doughnut of outer London councils, many of them Conservative strongholds, that delivered Boris Johnson City Hall in 2012.
Merton, in south London, should, in theory, be the easiest win for Ed Miliband's troops out of the six the party is targeting (the others are Harrow, Barnet, Redbridge, Tower Hamlets and Croydon).
It is split down the middle between affluent, Conservative-voting Wimbledon - where the average house price is £791,000 - and the Labour-voting former council estates and terraced streets in the east of the borough, where property values are roughly half that.
The Lib Dems hold a couple of seats and there are is a small group of independent and UKIP councillors but otherwise it's a straight fight between Labour and the Tories - the sort that Ed Miliband will have to win next year to be confident of a decent majority. Unless he opts to rely entirely on disaffected ex-Lib Dem voters and motivating the core Labour vote, as some of his advisers appear to want.
"We are looking for Tories who are disenchanted with the Tory government's cuts programme, think it's too fast, too cruel, people who like what Labour is doing," says Labour's council leader Stephen Alambritis.
Officially the council is in no overall control, but Labour runs the town hall, thanks to a deal with independents.
Mr Alambritis, a former press spokesman for the Federation of Small Businesses, says the key to wooing wavering Tory supporters is economic competence. Something he claims Labour has been able to demonstrate in Merton by freezing the council tax for four years without cutting local services such as libraries and children's centres. It is still a work in progress for the two Eds at Westminster but they are on the right track, he adds.
"What we are hearing on the doorstep is a lot of people say they normally vote Tory but they like what the Labour council is doing and they may be minded to vote Labour locally but maintain their Tory credentials come the national election."
'Overcharged'
The Conservatives - who have vowed to cut council tax by 10% - say Labour was only able to freeze it thanks to a grant from central government and is sitting on a sizeable budget surplus.
"They don't have a grip on the financial situation, they don't know how to budget. That is the problem," says Tory councillor Henry Nelless, who is standing for re-election in the Abbey ward, one of the two Labour are hoping to turn from blue to red.
"The main plank of our campaign is that the Labour administration has overcharged residents for the services they have provided."
The Conservative Party in Merton has been hit by a string of defections to UKIP - a pattern seen in other parts of the capital.
But although they are hoping to make further big gains in local councils across England on 22 May, Nigel Farage's party remain fringe players in the London boroughs and are not putting up a full slate of candidates.
The party's campaign in Merton got off to the worst possible start when one of its prospective candidates, Andre Lampitt, had to be suspended for posting "racist" comments on Twitter.
Traffic calming anger
Suzanne Evans, one of three ex-Tory councillors standing in Merton for UKIP, insists the episode has not damaged their campaign. Mrs Evans, who was thrust into the national spotlight to defend her new party in the furore surrounding Mr Lampitt, castigates Labour and the Tories for maintaining a "cosy status quo" and for their lack of ambition in cutting council tax bills - she has argued for a £70 rebate.
But, she adds, the UKIP group, which is fielding 13 candidates in Merton, would be happy to form a coalition with either party in the event of another hung council.
The Lib Dems have launched a full manifesto for Merton, focusing heavily on environmental issues such as a 20mph speed limit, but the party is focusing its resources to retain control of nearby Kingston, one of just two London boroughs it currently controls.
Nick Clegg's party has been overtaken in some national opinion polls by the Green Party, which has always done well in London and is hoping to make further gains on 22 May.
Back at the Savacentre, it is possible to find every variety of swing voter except the one that Ed Miliband - and Stephen Alambritis - need, the Tory-Labour switcher.
Peter Rajah, 75, says he is a lifelong Labour voter who is thinking of casting a "protest" vote for UKIP because he wants to see Britain come out of the EU and he does not think much of Ed Miliband as party leader.
Isha, 33, a mother-of-three who is furious about being re-housed in Merton from Kensington and Chelsea, says she has voted Labour since she was 18, like her whole family, but is thinking of switching to the Conservatives because Labour "nearly bankrupted" the country.
Another man refuses to say which way he will vote but launches into a highly detailed diatribe against the Labour council for "spending money on frivolous irrelevances" such as traffic calming measures.
Finally a ray of light for Ed Miliband appears in the shape of Jonathan Lomas, a 44-year-old English teacher.
He is not a Tory-Labour switcher exactly. He tends to vote Lib Dem or Green, he says, because he is concerned about the local air quality and is keen on a 20mph speed limit.
But he will be voting Labour on 22 May "because they have the best chance of beating the Conservatives".
On the strength of this, admittedly highly unscientific, survey it is not hard to see why some of Mr Miliband's advisers believe chasing Tory voters next year is a lost cause.