Ex-minister Chris Huhne ordered to pay £77,750 in legal costs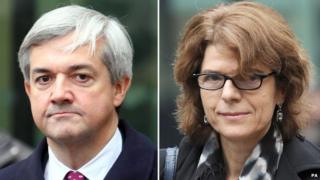 Former cabinet minister Chris Huhne has been ordered to pay £77,750 in legal costs relating to his prosecution for passing speeding points to his ex-wife.
His ex-wife, economist Vicky Pryce, was ordered to pay £49,200 by Mr Justice Sweeney at Southwark Crown Court.
Huhne had been fighting the claim for more than £100,000 in legal costs following his conviction for perverting the course of justice in 2013.
Lawyers for the former couple had argued the sums were not reasonable.
The pair were both jailed for eight months in March 2013 after it emerged she had taken speeding points on his behalf a decade earlier, while they were married.
The former Lib Dem energy secretary admitted asking Pryce to take the points, and Pryce was convicted of having agreed to do so.
The order comes a week after barrister and part-time judge Constance Briscoe was jailed for 16 months after a jury found she had lied to police investigating the points scandal.
'No hesitation'
Briscoe also faces being barred from the judiciary after being found guilty of three counts of intending to pervert the course of justice.
Her trial heard she helped Pryce to reveal information about the points-swapping to newspapers after the couple split in 2010, then lied to police about her involvement.
Huhne has claimed that he continued to deny his guilt because he was convinced that the barrister's witness statement to police was "made up".
Writing in the Guardian, he said: "Nothing encourages a defence like being fitted up with fake evidence."
But Mr Justice Sweeney said in his judgement that Huhne had "falsely pretended over a long period.... that he was innocent".
He had had "no hesitation" in rejecting Huhne's legal team's original offer of £25,000 towards costs, but he did not think it would be "just and reasonable" for the disgraced MP to pay the costs of the investigation into Briscoe sparked by the original case, he said.
The speeding points scandal forced Huhne to stand down as cabinet minister and then resign as an MP.