Miliband 'happy' to meet Pfizer boss over takeover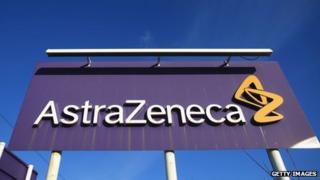 Ed Miliband says he would be "happy" to meet the boss of US drug company Pfizer to discuss its proposed takeover of AstraZeneca, after being criticised for previously turning down a meeting.
The Labour leader said he was too busy to meet Ian Read earlier this month, days before he attacked the coalition's handling of the controversial deal.
He insisted Labour had "engaged" with Pfizer since its first offer to meet.
But the prime minister said Mr Miliband had made a "huge error".
The Labour leader has accused the prime minister of being a "cheerleader" for the bid, saying assurances given by Pfizer over jobs and future research capabilities are inadequate.
He has called for an inquiry into whether the planned move for AstraZeneca - the biggest takeover of a UK company by a foreign firm - is in the UK's national interest.
'Out campaigning'
However, the BBC's Newsnight has learnt that on 28 April, after the £63bn bid was confirmed, Pfizer chief executive Ian Read wrote to the Labour requesting a meeting with him.
The Labour leader's chief of staff, Tim Livesey, wrote back the following day to say that a meeting within the next month would be "very difficult" as Mr Miliband would be too busy "out campaigning most of the time".
Mr Livesey said shadow business secretary Chuka Umunna was is in discussions with Pfizer's UK chief Jonathan Emms and "we will continue to take a close interest".
Labour sources said it was more appropriate for the shadow business secretary to take part in specific talks but they were now trying to find space in Mr Miliband's diary to be able to meet with Mr Read.
Speaking on Friday, Mr Miliband said Labour had been "engaging" with Pfizer since the deal was tabled but he had been "out on the campaign trail" earlier this month so unable to arrange a meeting.
"I am sure I will be talking to them," he said.
"I would be very happy to speak to them and I will be doing that next week."
'Specific pledges'
But Mr Cameron, who has accused Labour of "playing politics" over the deal, said Mr Miliband had been wrong not to meet the Pfizer boss.
"The letter that the head of Pfizer wrote to me makes some specific pledges about the percentage of [research and development Pfizer] would spend in Britain," he said.
"That stands in stark contrast to the Labour leader who wouldn't even meet with him, said he was too busy. I think that was a major error of judgement."
The government has defended its handling of the issue, with Business Secretary Vince Cable insisting the government would not let Pfizer use the UK as a tax haven and promised to secure British science jobs.
Current public-interest powers available to ministers allow them to intervene in takeover deals and mergers in a limited number of instances. These include national security concerns, media-company mergers and banks.
They do not give ministers the scope to address concerns about jobs or investment in research and development raised by the potential Pfizer takeover.
AstraZeneca employs more than 51,000 staff worldwide, with 6,700 in the UK. Pfizer has a global workforce of more than 70,000, with 2,500 in the UK.